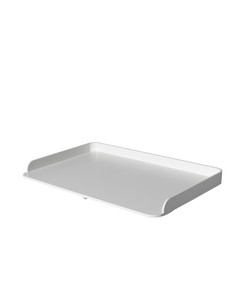 Oliver Furniture
Wood nursery top large, for dresser 6 drawers
Item number: 041362
Dimensions

: w 118 cm × h 9 cm × d 76,5 cm
Wood nursery plate is designed as a supplement to the Wood dresser with 6 drawers. The beautifully carved nursery plate easily transforms the dresser into a changing station, which sits equally well in the children's room as in the master bedroom. The dresser's 6 spacious drawers are suitable to everything from diapers to muslin cloths and clothes.
Wood nursery plate comes in 2 sizes, covering either half or the entire surface of the Wood dresser. The smaller nursery plate is designed to hold a single changing cushion, while the larger plate has room for two. With the discrete edges, both the small and the large nursery plate create a visual harmony when combined with the dresser.
The nursery plate's rounded edges and the generous amount of space makes for a safe and comfortable nursing environment – with room for movement and play as well as the important intimate contact between baby and parent. The nursery plate is easily and safely mounted on the dresser with latches, which are designed to firmly grasp around the dresser's edge. When the nursery plate is no longer needed, it is easily removed – and leaves the dresser to its purpose for many years to come.
The nursery top is made of MDF, which is engineered wood consisting of 60% birch, 20% pine and 20% aspen wood. MDF is very strong and durable.

The non-visible screws give a clean and exclusive design and are a defining trade of Oliver Furniture.

The nursery top is made in Europe and complies with strict EU health and safety requirements. The nursery top is painted with non-toxic, water-based paint.