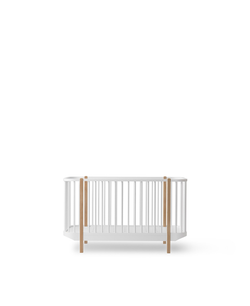 Oliver Furniture
Wood cot, white/oak
Item number: 041424
Dimensions

: w 76 × l 146 × h 86 cm
An inspiring contrast of Nordic oak with classic white lines, soft expression and innovative design which allows an ergonomic and close contact between the parent and the child. This design combines classic with modern trends and makes the Wood cot ideal for the modern European children's rooms.
The cot has two height settings, short grid side and three removable bars. With these four functions, the cot adapts as children grow for longer usability. The child can use the cot for several years and it can be passed on to next generation.

The Wood cot is made of birch wood and offered in two different models: one with legs in beautiful white-oiled solid oak and one in all-white with legs in solid birch.

The non-visible screws give the bed a clean and exclusive design and are a defining trade of Oliver Furniture. The style is contemporary and combines innovative design with modern simplicity.

The bed is manufactured in Europe and complies with European safety standards and norms. The products are painted with non-toxic, water-based paint.
Maximum weightload on bed bases (static weight): 30 kg