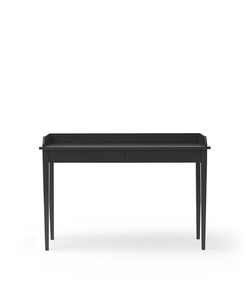 Oliver Furniture
Seaside console table, black
Item number: 091022
Dimensions: w 120 × d 46 × h 74 cm
Stylish console table with 2 drawers. The console table has a minimalist design with clean lines. It can be used as a work table in the living room, in the bedroom, or as a table in the hallway. This console table creates a wonderful calm atmosphere in the room it is placed in.
The table is made of birch wood and MDF, which is engineered wood consisting of 60% birch, 20% pine and 20% aspen wood. MDF is very strong and durable.

The non-visible screws give the table a clean and exclusive design and are a defining trade of Oliver Furniture. The design is light and delicate and will last for generations.

The table is made in Europe and complies with strict EU health and safety requirements. The table is painted with non-toxic, water-based paint.