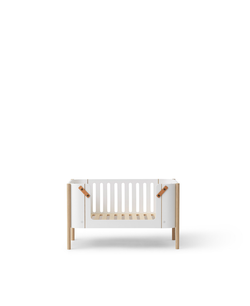 Oliver Furniture
Wood bench, white/oak
Item number: 041613
Dimensions

: w 44,5 × l 84,5 × h 50-54 cm
Wood bench is a small piece of furniture with a great personality. In its intriguing design language, the bench will quickly become the child's favourite furniture – whether it is placed in the child's own room, or in the kitchen or living room. The bench can be adjusted in height and thereby follow the child for many years to come. The bench hereby supports Oliver Furniture's foundational principle of aesthetic sustainability.
With the additional refined small wooden holder in solid oak, the functionality of the Wood bench is further expanded. The holder, which is easily mounted to the bench, functions as a natural base for the canopy which creates a cosy cave-like atmosphere for the small child with the big imagination.
The Wood bench is made of oak and birch.

The non-visible screws give a clean and exclusive design and are a defining trade of Oliver Furniture. The style is Scandinavian with clean lines, round shapes and simple details, like the leather straps.

The bench is manufactured in Europe and complies with European safety standards and norms. It is tested and approved according to EN 17191:2017. All products are painted with non-toxic, water-based paint.
Maximum weightload on bed base (static weight): 75 kg