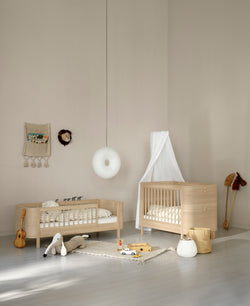 Oliver Furniture
Wood mini+ sibling kit, oak (additional to mini+ cot bed incl. junior kit)
Item number: 041791
Dimensions

:
.


cot bed

w 74 × l 126 × h 87 cm


junior bed

w 74 × l 166 × h 57,5 cm
To celebrate our 20th anniversary, we are expanding our popular Wood Mini+ bed series with an exclusive version in oak. The bed series' functional and flexible design concept, combined with the uncompromising quality and unique expression of the oak wood, ensures a long lifespan.

When families expand, and one child becomes two, Mini+ cot bed incl. junior kit can also be supplemented with a Mini+ sibling kit. This kit contains additional parts to build a crib for the youngest and a junior bed for the oldest all at the same time. Whether the children are in one room or separate rooms, the aesthetics of your home will stay intact.
Mini+ sibling kit is a supplement to Mini+ cot bed incl. junior kit. It is designed to follow the family's needs and the evolutionary cycle. With the purchase of a sibling kit, the baby's cot bed incl. junior kit can follow both child and family growth.
The sibling kit makes it possible for the family to have both the Mini+ cot bed as a safe base for the youngest child and the Mini+ junior bed to the oldest child at the same time. With this, the baby's first bed is an investment in the child's sound sleep and healthy growth. With the Mini+ sibling kit, the bedroom environment becomes a stable and safe base for the youngest child and remains aesthetically consistent for years to come – even when one becomes two.
The Mini+ sibling kit supports the sustainable thinking behind Oliver Furniture: To create furniture that in design and quality can follow the family for generations.
As your needs change - a child wants a new bed, or maybe a sibling arrives - the bed can keep up with the new needs.

Choose the bed you want to convert and see the conversion options in the bed converter.
We guarantee a five-year availability of the standard conversion kits for all convertible beds from the date of purchase.
The Wood Mini+ oak is made of white-oiled solid oak and molded birch veneered in oak.
Natural wood can have different tones and appearances. Slight tone differences across the parts may occur. Be aware that wooden surfaces can fade in direct sunlight.

The non-visible screws give the bed a clean and exclusive design and are a defining trade of Oliver Furniture. The style is Scandinavian with clean lines, round shapes and simple details, like the leather strap at the headboard.

The series is manufactured in Europe and complies with European safety standards and norms. The products are treated with white pigmented oil based on linseed, sunflower and jojoba oil.
Maximum weightload on bed bases (static weight):
Mini+ cot bed: 30 kg
Mini+ junior bed, low loft bed and low bunk bed: 120 kg