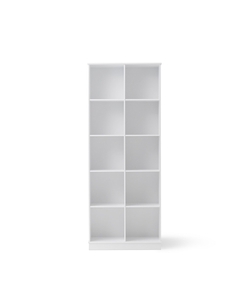 Oliver Furniture
Wood shelving unit 2x5
Item number: 041320
Dimensions: w 71,5 × h 180 × d 36 cm
Inside dimensions: w 33 × h 33 × d 33 cm

This floor shelving in classic Nordic style consists of 10 compartments. The simple design gives this shelving unit a light expression with a Nordic concept and makes it easy to enjoy keeping order in it. It is ideal for a children's room, but is just as well suitable for any other room in the house. Toys, books and many more things can be stored easily. In addition we have designed storage boxes that can be placed individually into the shelf. The compartments can also be subdivided further by additional shelf boards and you can choose individually where to place them.

The Wood shelving units are made of MDF, which is engineered wood consisting of 60% birch, 20% pine and 20% aspen wood. MDF is very strong and durable.
The non-visible screws give the shelving units a clean and exclusive design and are a defining trade of Oliver Furniture. The style is contemporary and the functional, flexible concept make the shelving units easy to integrate.
The shelving units are made in Europe and comply with European safety standards and norms. The products are painted with non-toxic, water-based paint.