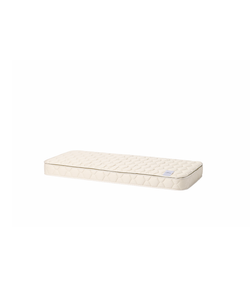 Oliver Furniture
Mattress for Wood Mini+ 68 x 162 cm
Item number: 041863
Dimensions: w 68 × l 162 × h 12 cm
The average night's sleep for children is about 12 hours, during which they process the many impressions and experiences of the day. A cold foam mattress gives the little body every opportunity to recover and recharge for a new day full of new adventures.
The mattress provides good support for the whole body, so the child lies safely and comfortably in all positions. The mattress does not have sleeping zones, as many adult mattresses do. Sleep zones provide special support for specific parts of the body, but as children usually sleep like a helicopter, turning over and over many times during the night, sleep zones are unnecessary.
Young children are not yet very good at regulating their body temperature. The open-pore cold foam helps air circulate through the mattress core and wicks away moisture, allowing the child to regulate the body temperature.
Dust and dirt have a tough time settling into the mattress. With an easily washable cover, the mattress has a high level of hygiene and is suitable for allergy sufferers. If the worst comes to the worst, you can even wash the top part of the two-piece cover, as it comes with an attached zip-off zipper that makes it easy to get it off and on.

The mattress core is made of Oeko-Tex certified European HR cold foam, which is very comfortable, breathable, and hypoallergenic, easily recovers its shape after use and has a high carrying capacity. Volume weight 28.5-33 kg/m3.
The cover is made of GOTS-certified organic herringbone cotton, quilted with a layer of Oeko-Tex certified recycled PET fibres. One half (top) has a breathable, waterproof layer of Oeko-Tex certified cotton laminated with TPU film (thermoplastic polyurethane) on the inside. A label indicates the waterproof side.
The removable cover is machine washable (max. 40°).
The mattress is manufactured in Europe and complies with European safety standards and norms. The mattress is tested according to the safety standard EN 16890 and in compliance with the European fire safety standards EN 71-2 and BS 7177.