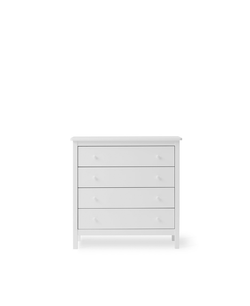 Oliver Furniture
Seaside dresser with 4 drawers
Item number: 021329
Dimensions: w 90,5 × h 90 × d 49 cm
Inside dimensions drawers: w 74,6 × h 12,2 × d 37,3 cm

With its simple design and modest measurements, Seaside dresser with 4 drawers is the obvious choice for the children's room. The dresser has 4 solid and spacious drawers, which effortlessly run on high quality rails, while a special 'soft lock'-function dampens the closing. The Seaside dresser is designed to accommodate the need for anything from clothes to books and toys, without taking up unnecessary space in the room.
The classic design and the porcelain pulls on the front of the drawers add an element of nostalgia and finesse. The visually light expression makes the dresser easy to combine with any other interior, where it will seem traditional and modern, elegant and unpretentious. By purchasing a Seaside nursery top, Seaside dresser can be used as a changing station.
The Seaside dresser is made of birch wood and MDF, which is engineered wood consisting of 60% birch, 20% pine and 20% aspen wood. MDF is very strong and durable.
The non-visible screws give the dresser a clean and exclusive design and are a defining trade of Oliver Furniture. The style is simple and classic with refined details such as porcelain pulls. The drawers run effortlessly on high quality rails, while a special soft-close function dampens the closing.
The dresser is made in Europe and comply with European safety standards and norms. The dresser is painted with non-toxic, water-based paint.