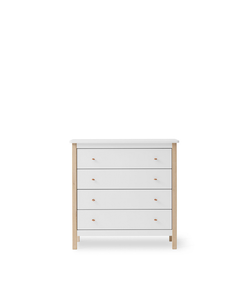 Oliver Furniture
Wood dresser 4 drawers
Item number: 051314
Dimensions: w 90,5 × h 90 × d 49 cm


Inside dimensions drawers: w 74,6 × h 12,2 × d 37,3 cm



The Wood dresser is suitable for children of all ages. It works well in the nursery or teenage room and it also fits seamlessly into any interior style at home. We do not compromise on design or quality. The Wood dresser has four drawers mounted on tracks with a soft close function of high quality.
The Wood dresser with 4 drawers is made of solid oak and MDF, which is engineered wood consisting of 60% birch, 20% pine and 20% aspen wood. MDF is very strong and durable.

The non-visible screws give the dresser a clean and exclusive design and are a defining trade of Oliver Furniture. The style is contemporary with clean lines and refined details such as pulls made from loops of full grain leather. A special soft close-function dampens the closing of the drawers.
The dressers are made in Europe and comply with European safety standards and norms. The dressers are painted with non-toxic, water-based paint.