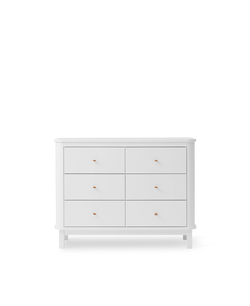 Oliver Furniture
Wood dresser 6 drawers, white
Item number: 041360
Dimensions

: w 118 × h 90,5 × d 58 cm


Inside dimensions drawers: w 44 × h 18 × d 46 cm



With its simple design and focus on function, Wood dresser is a piece of designer furniture with a practical aim. The rounded edges, both outwards and facing the wall, give the dresser a visually light stature. The many handcrafted details add an element of design wherever the dresser is placed – and the expression is at the same time traditional and contemporary, elegant and informal.
Wood dresser has 6 solid and spacious drawers, which effortlessly run on high quality rails. A special 'soft lock'-function dampens the closing of drawers and doors, so small fingers won't get pinched. The dresser is designed as a carefree storage solution, which just fits in, and the dimension of the drawers are adjusted to the need for space. The sides of the dresser are equipped with 2 integrated, rounded hooks for hanging decorative objects – or as a practical tool on busy days where things should be easily accessible.
With its timeless design, the dresser is equally suitable in the children's room as in the master bedroom or entrance hall. Its classic appearance makes it easy to combine with furniture and objects of other styles.
By purchasing a nursery top the dresser can also be used as a changing station.
The Wood dressers with 6 drawers are made of solid wood and MDF, which is engineered wood consisting of 60% birch, 20% pine and 20% aspen wood. MDF is very strong and durable. The dressers are offered in two different models: one with footings and hooks in beautiful white-oiled oak and one in all-white with legs and hooks in birch.

The non-visible screws give the dressers a clean and exclusive design and are a defining trade of Oliver Furniture. The style is contemporary with clean lines, rounded shapes and refined details such as pulls made from loops of full grain leather and integrated, rounded hooks. A special soft close-function dampens the closing of the drawers, so small fingers won't get pinched.
The dressers are made in Europe and comply with European safety standards and norms. The dressers are painted with non-toxic, water-based paint.