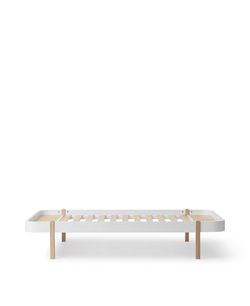 Oliver Furniture
Wood Lounger bed 120, white/oak
Item number: 041567
Dimension: w 127 × l 207 × h 40 cm
As the name suggests, Wood Lounger bed is a comfortable bed doubling as a stylish daybed. Given its simple and timeless design, the Wood Lounger bed is equally suitable for the child or teenager's room as in the living room. In both the classic and the extended version, the quiet elegance makes it easy to combine the Lounger bed with furniture and objects of other styles – making it the basis for developing great visual personalities.
The Wood Lounger bed is defined by an attention to detail. The white lacquered frame can be combined with legs in white or white oiled oak and the rounded corners and almost invisible joints give the Lounger bed a visual lightness and effortlessly stylish appearance. The standard dimensions of 90 x 200 cm make the Lounger bed ideal in a children's room where the space is tight, and the extended version with a width of 120 cm meets the tween's and teenager's need for more legroom – and perhaps a friend sleeping over. The generous amount of space is easily transformed to a cosy hang out with a personal look – for sharing small secrets and big ideas.
The Wood Lounger series is made of birch wood and MDF, which is engineered wood consisting of 60% birch, 20% pine and 20% aspen wood. MDF is very strong and durable. The series is offered in two different models: one with legs in beautiful white-oiled solid oak and one in all-white with legs in solid birch.

The non-visible screws give the bed a clean and exclusive design and are a defining trade of Oliver Furniture. The design is modern and exclusive in its form and expression.
The series is made in Europe and complies with strict EU health and safety requirements. The bed is painted with non-toxic, water-based paint.
Maximum weightload on bed bases (static weight): 120 kg