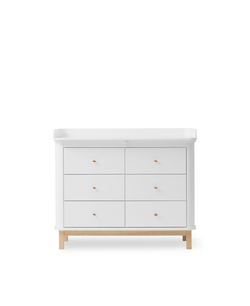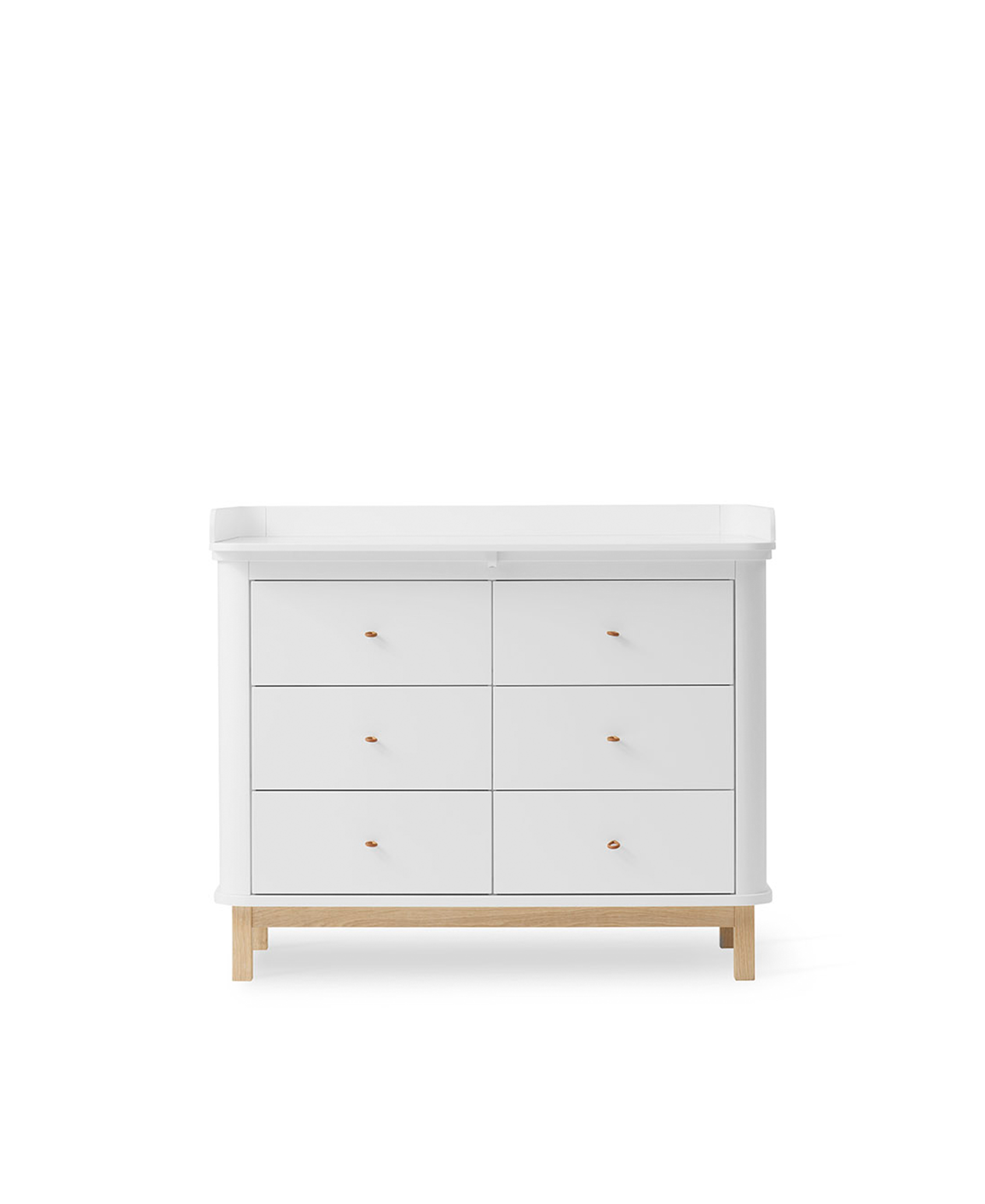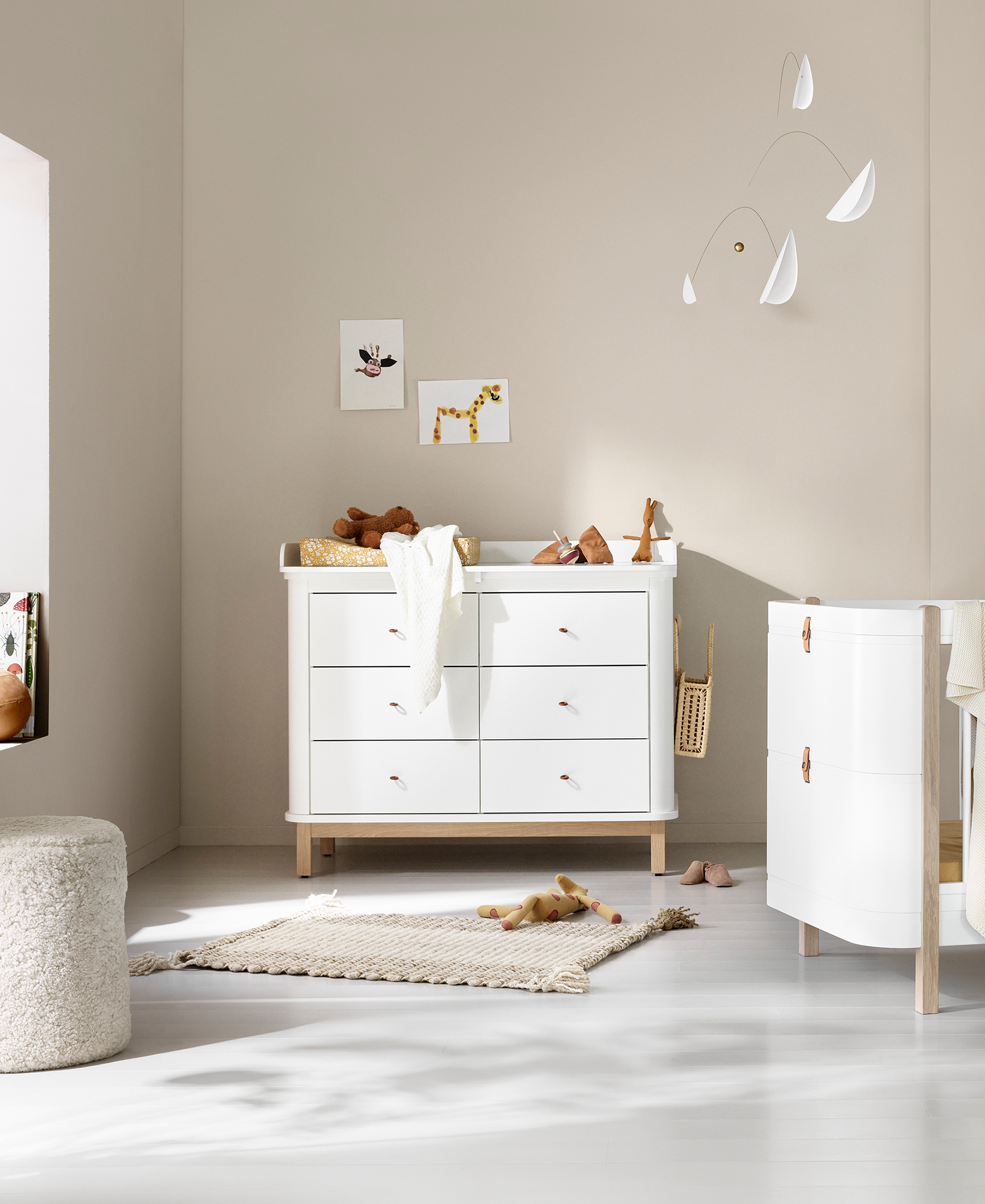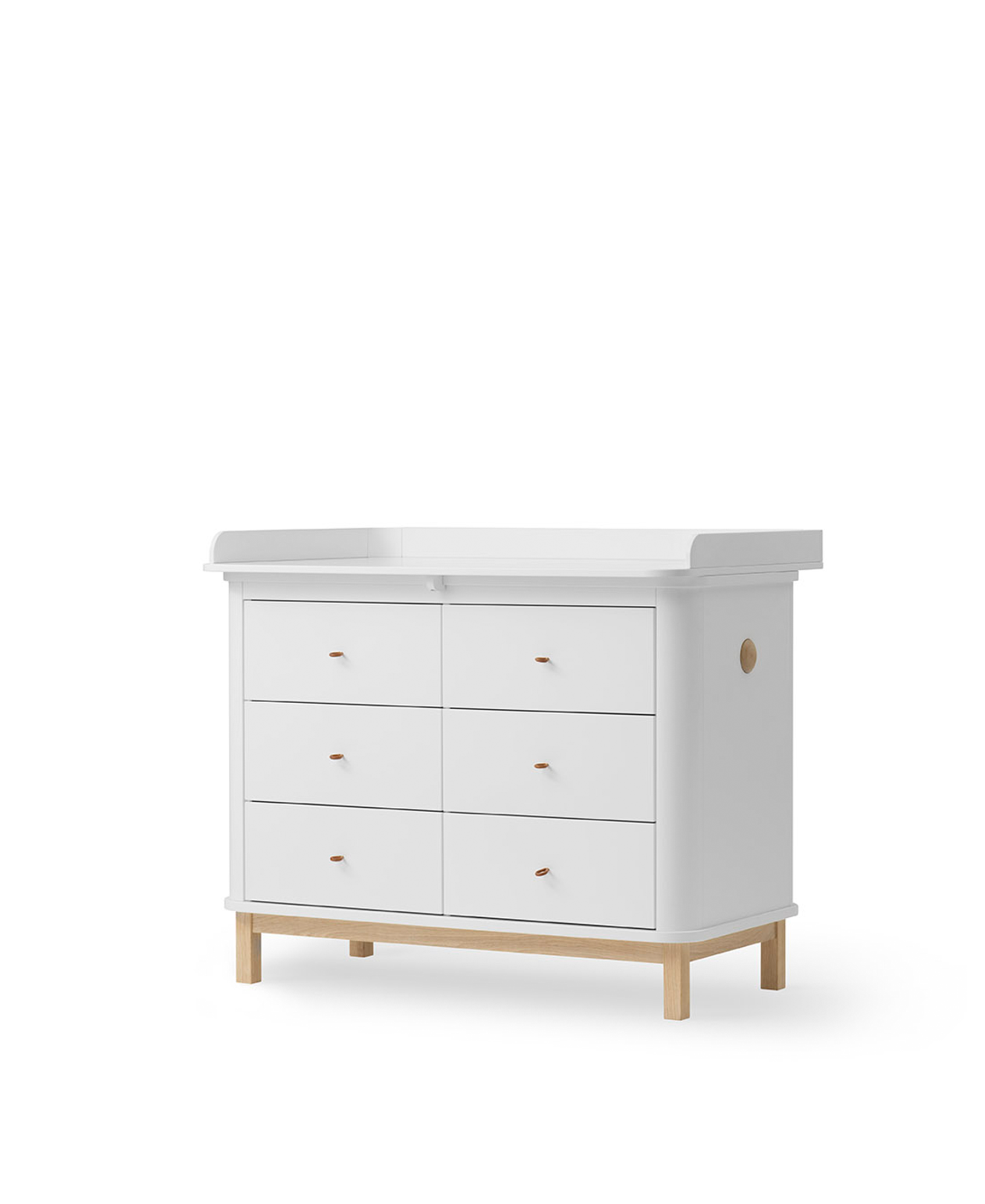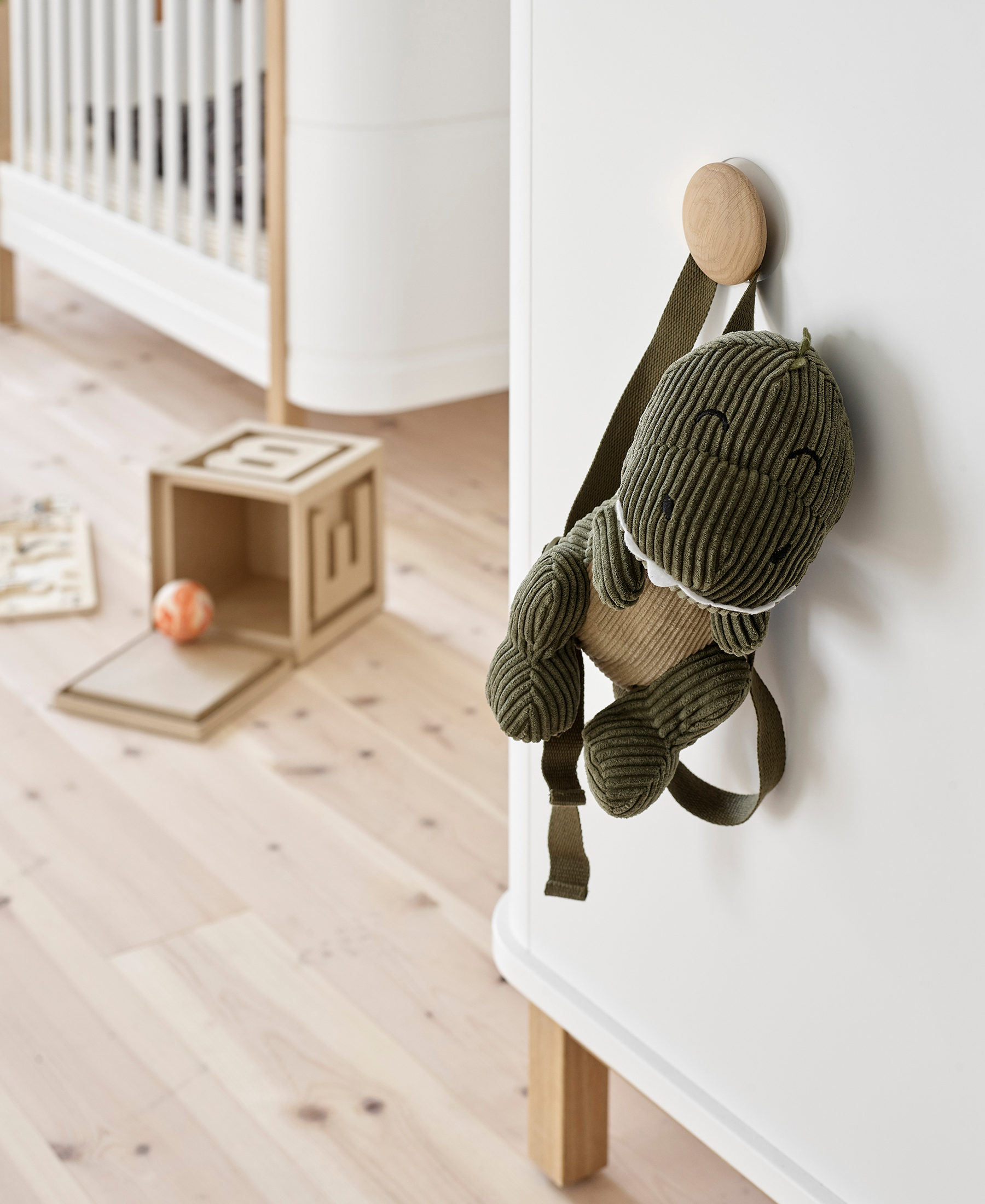 Oliver Furniture
Wood nursery dresser 6 drawers w. top large, white/oak
Item number: 041365
Dimensions

: w 118 × h 99,5 × d 76,5 cm


Inside dimensions drawers: w 44 × h 18 × d 46 cm


Desk height: 92,5 cm
The Wood nursery dresser combines function and storage. The 6 spacious drawers provide ample space for nursery essentials – keeping them at hand so that you never have to turn your back on your baby. The nursery plate's rounded edges and the generous amount of space make for a safe and comfortable nursing environment – with room for movement and play and the important intimate contact between baby and parent.
Wood nursery dresser has rounded edges on the back face and visually distinguishing it from the wall. The 6 solid and spacious drawers run effortlessly on high-quality rails. A special 'soft close'-function dampens the closing of drawers and doors, so small fingers will not get pinched. The dresser's sides designed with integrated, rounded hooks for hanging decorative objects – or as a practical tool on busy days where things should be easily accessible.

Wood nursery dresser is available with plates in 2 sizes, covering either half or the dresser's entire surface. The smaller nursery plate designed to hold a single changing cushion, while the larger nursery plate has room for two. With the discrete edges, both the small and the large nursery plate create a visual harmony when combined with the dresser. When the nursery plates are no longer needed, they can easily remove – transforming the furniture to a dresser of timeless qualities.

The Wood dressers with 6 drawers are made of solid wood and MDF, which is engineered wood consisting of 60% birch, 20% pine and 20% aspen wood. MDF is very strong and durable. The dressers are offered in two different models: one with footings and hooks in beautiful white-oiled oak and one in all-white with legs and hooks in birch.

The non-visible screws give the dressers a clean and exclusive design and are a defining trade of Oliver Furniture. The style is contemporary with clean lines, rounded shapes and refined details such as pulls made from loops of full grain leather and integrated, rounded hooks. A special soft close-function dampens the closing of the drawers, so small fingers won't get pinched.
The dressers are made in Europe and comply with European safety standards and norms. The dressers are painted with non-toxic, water-based paint.
we deliberately design Oliver Furniture in simple, clean lines because we want them to blend seamlessly into your family life, your home and the marvellous time that is a childhood
NO LONGER A BABY?
When the nursery tops are no longer needed, they quickly remove – transforming the furniture to a dresser of timeless qualities. This feature included, Wood nursery dresser accommodate Oliver Furniture's basic philosophy that high-quality furniture is an investment for life.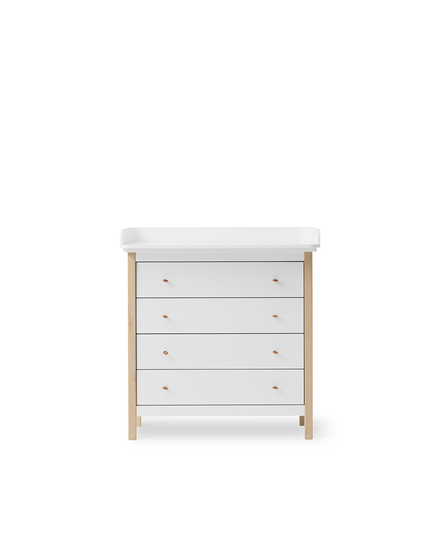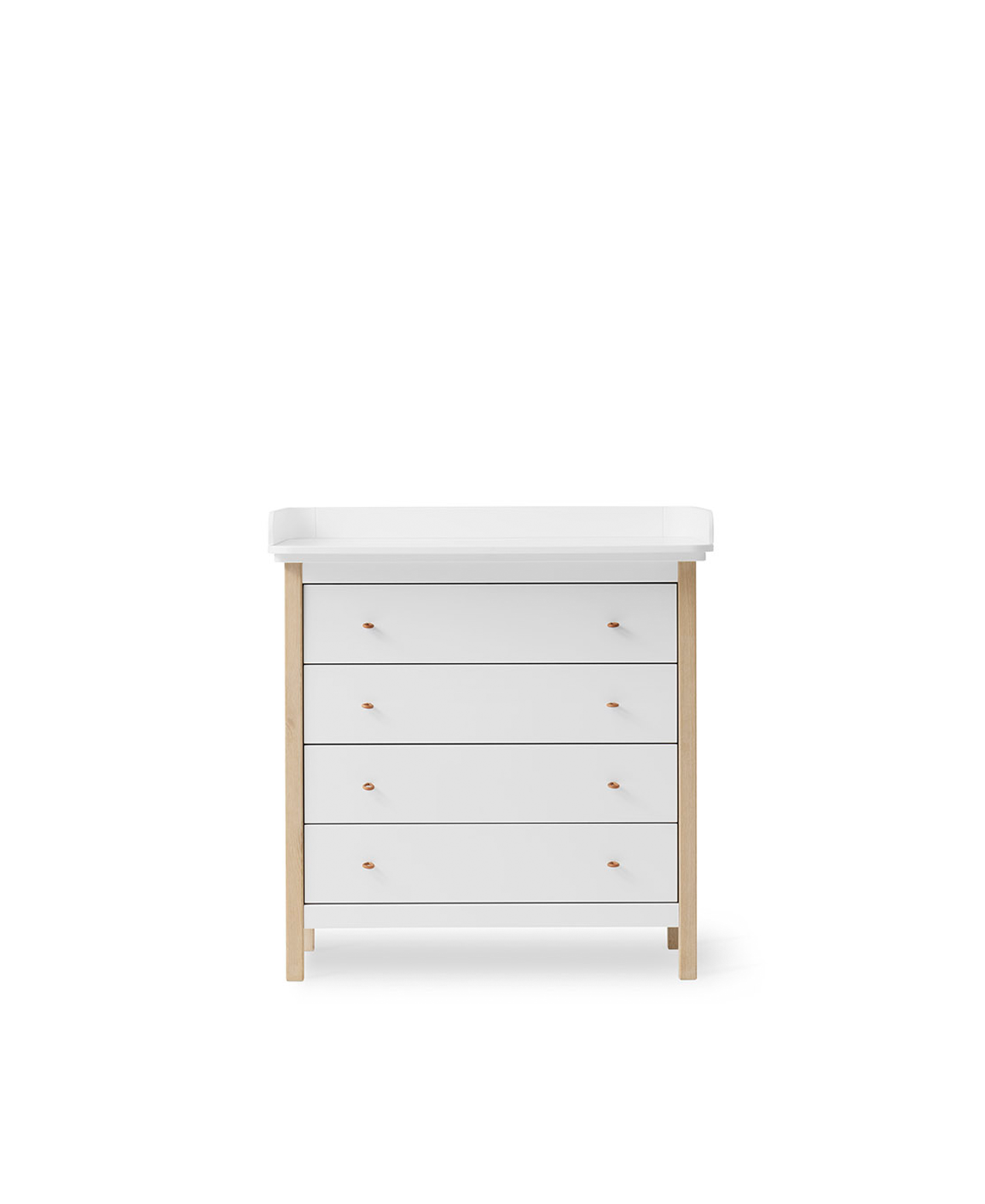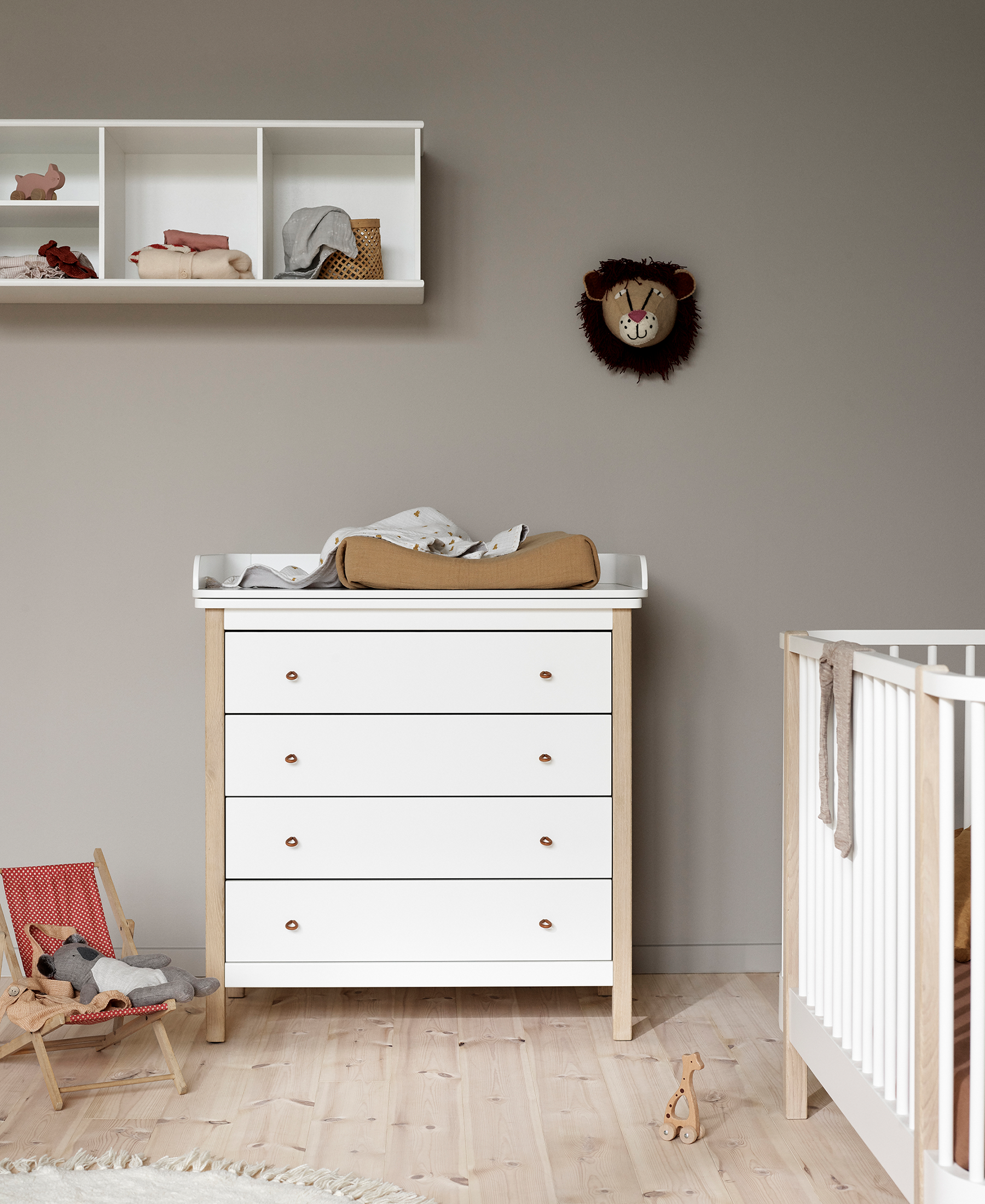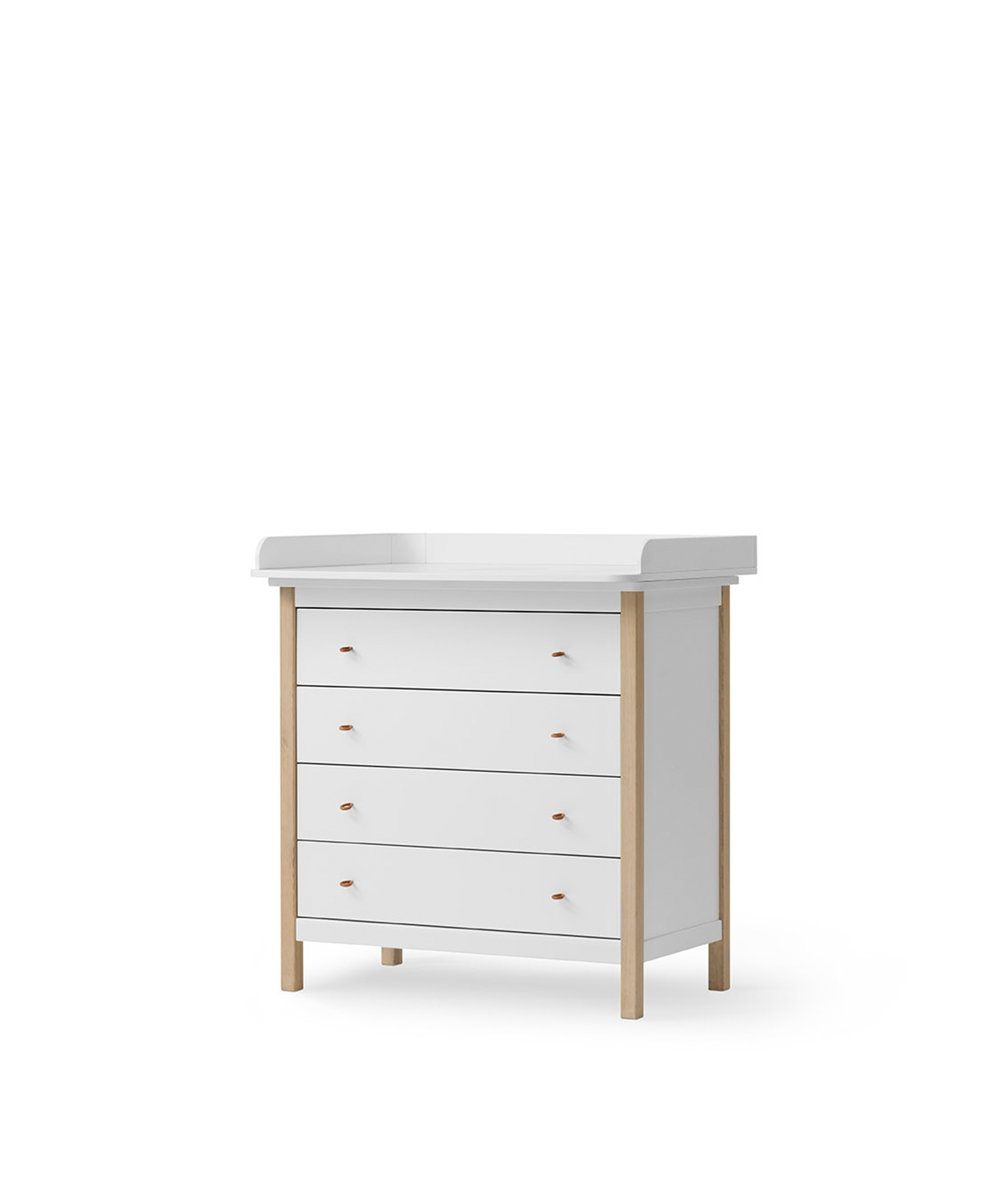 Wood nursery dresser 4 drawers
€979,00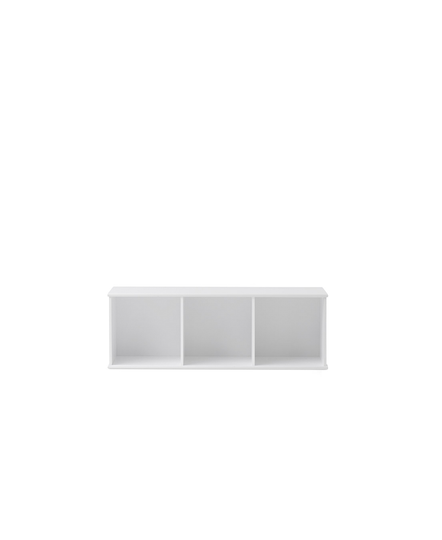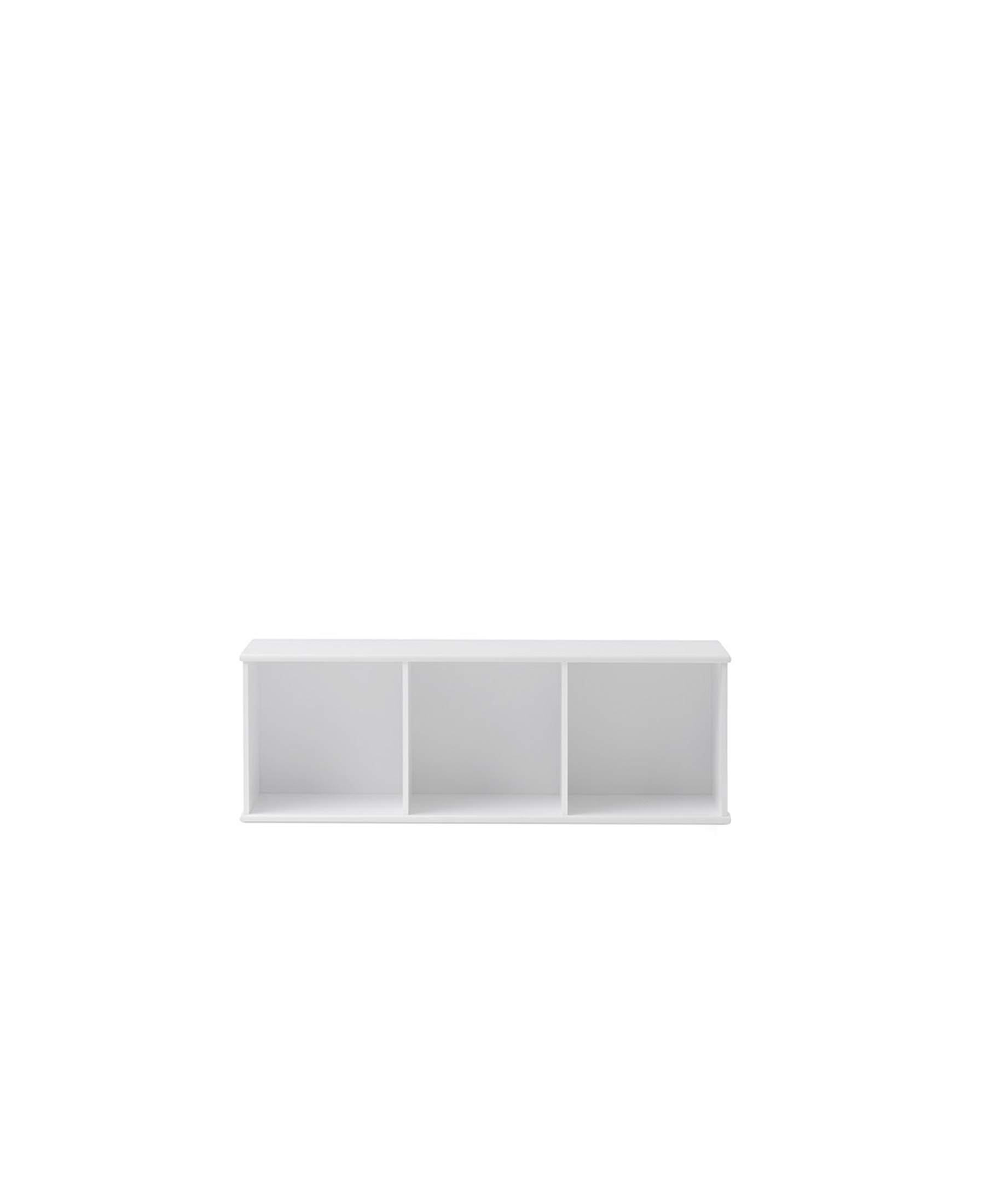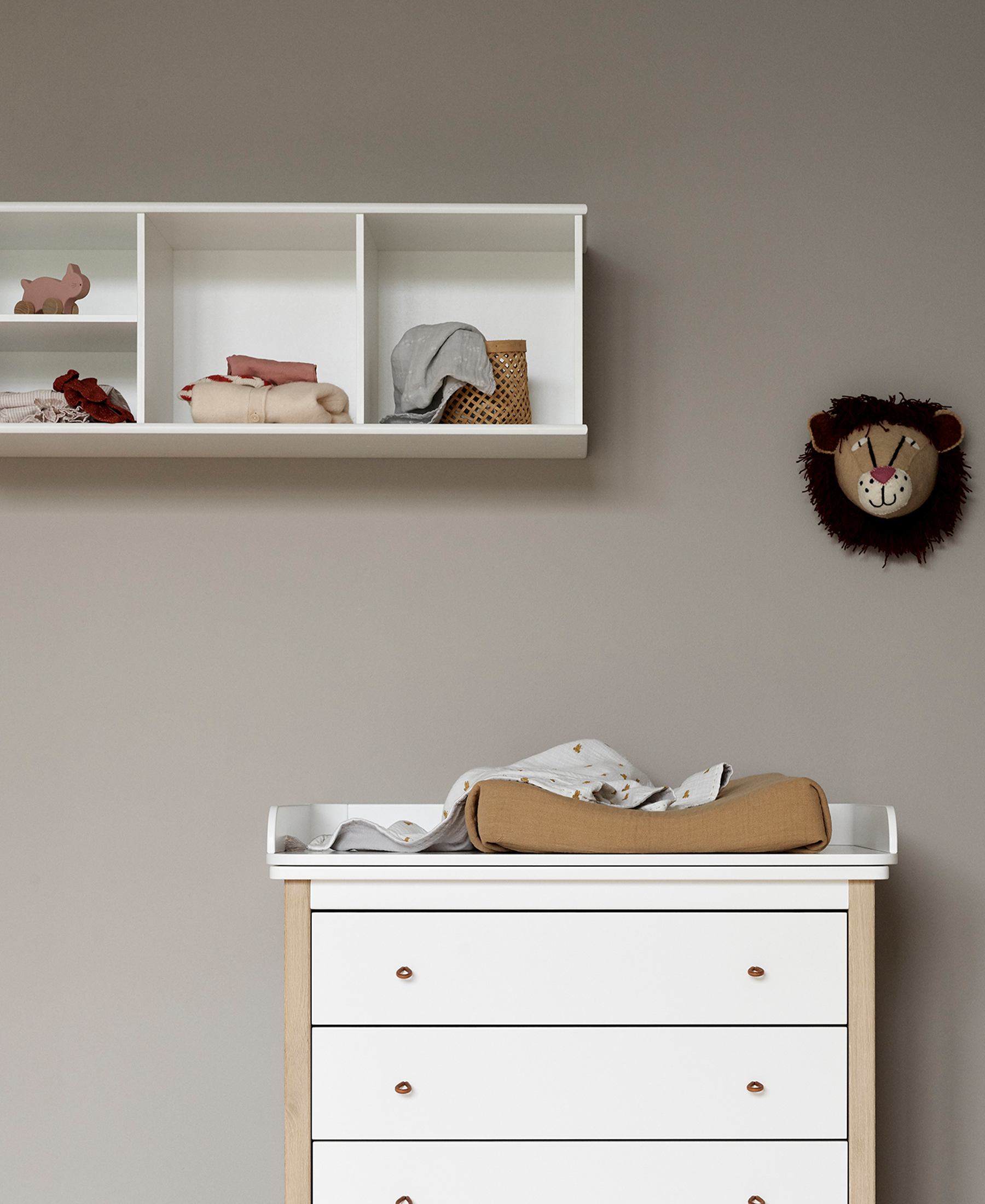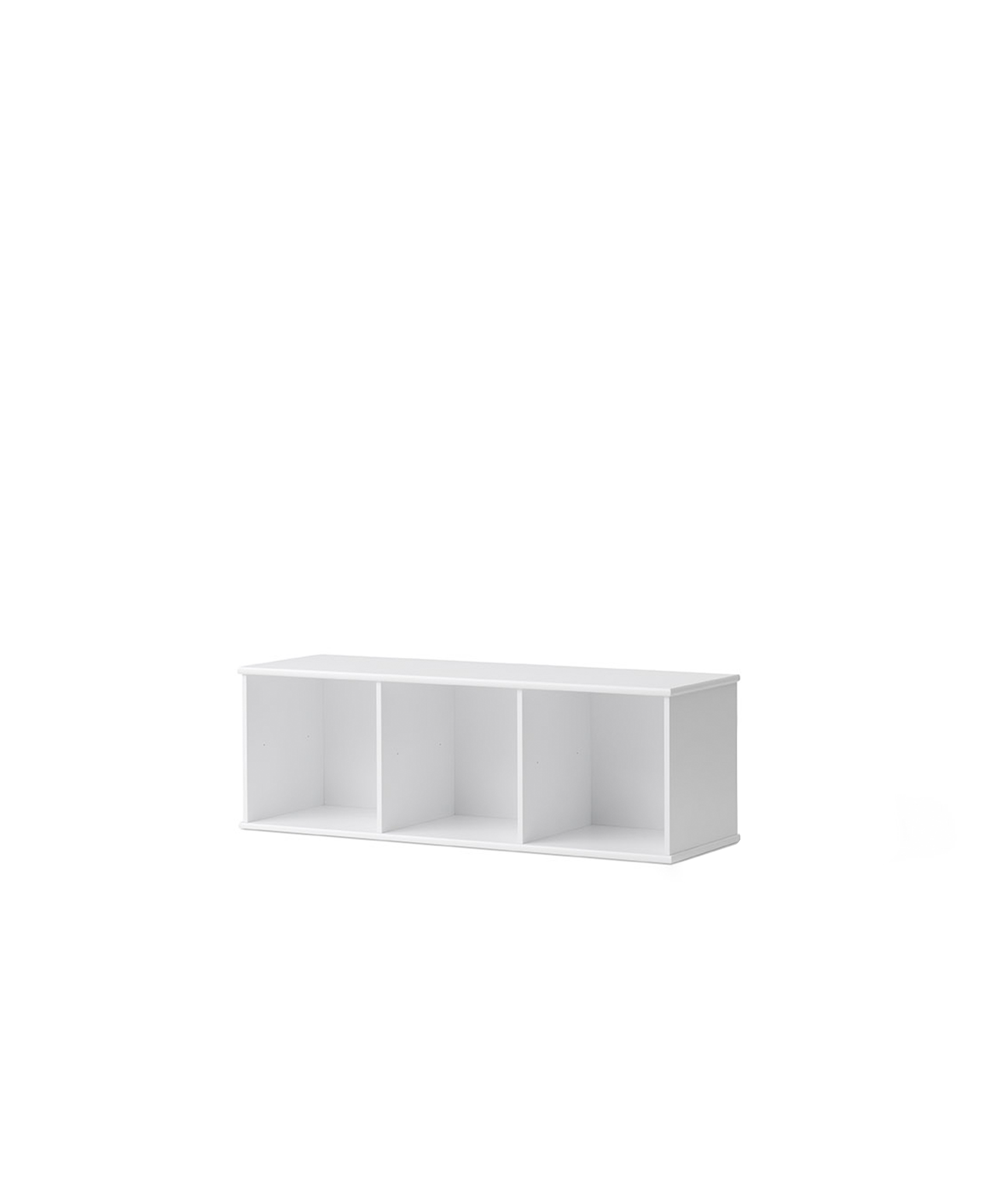 Wood shelving unit 3x1 w. support
€239,00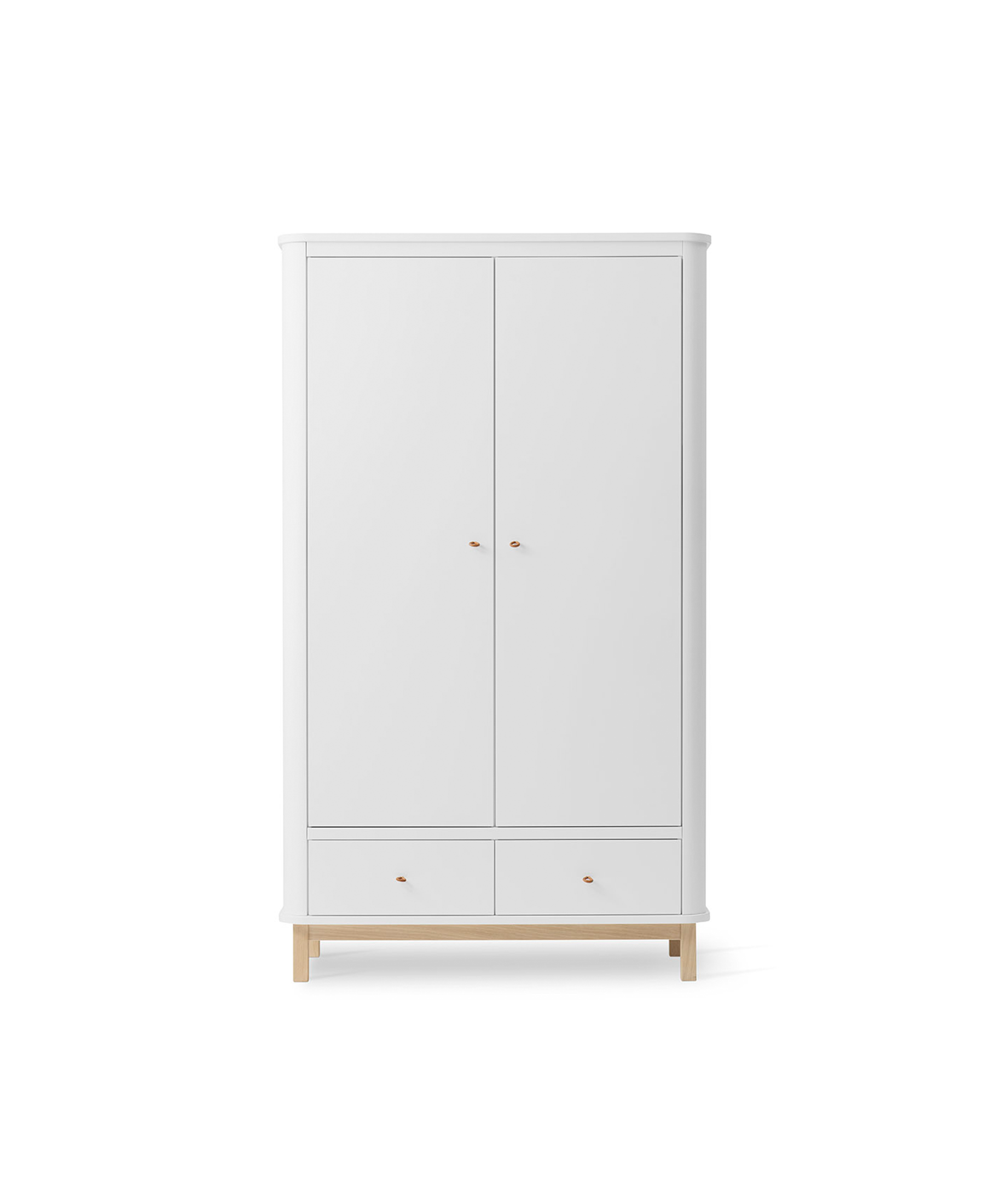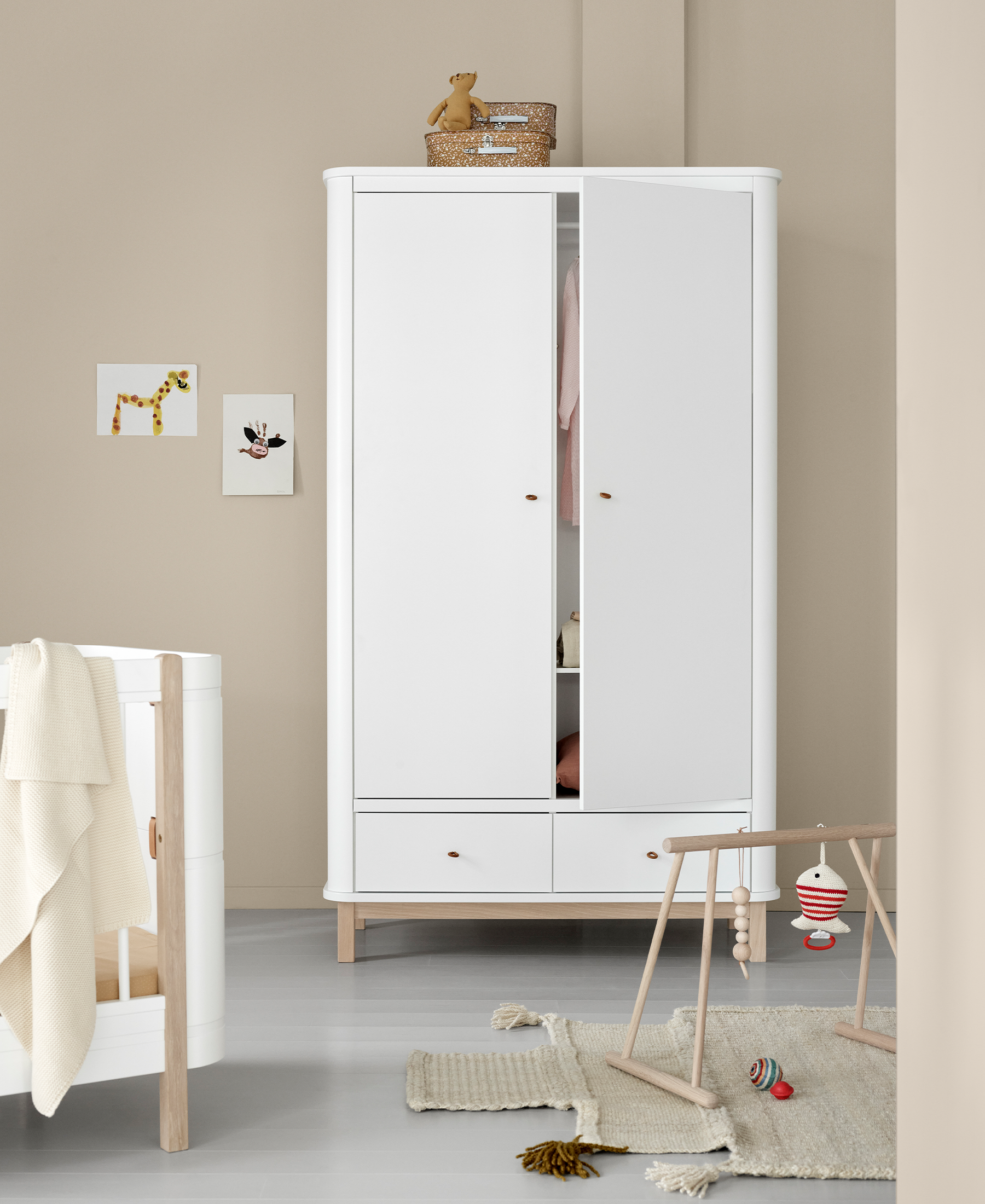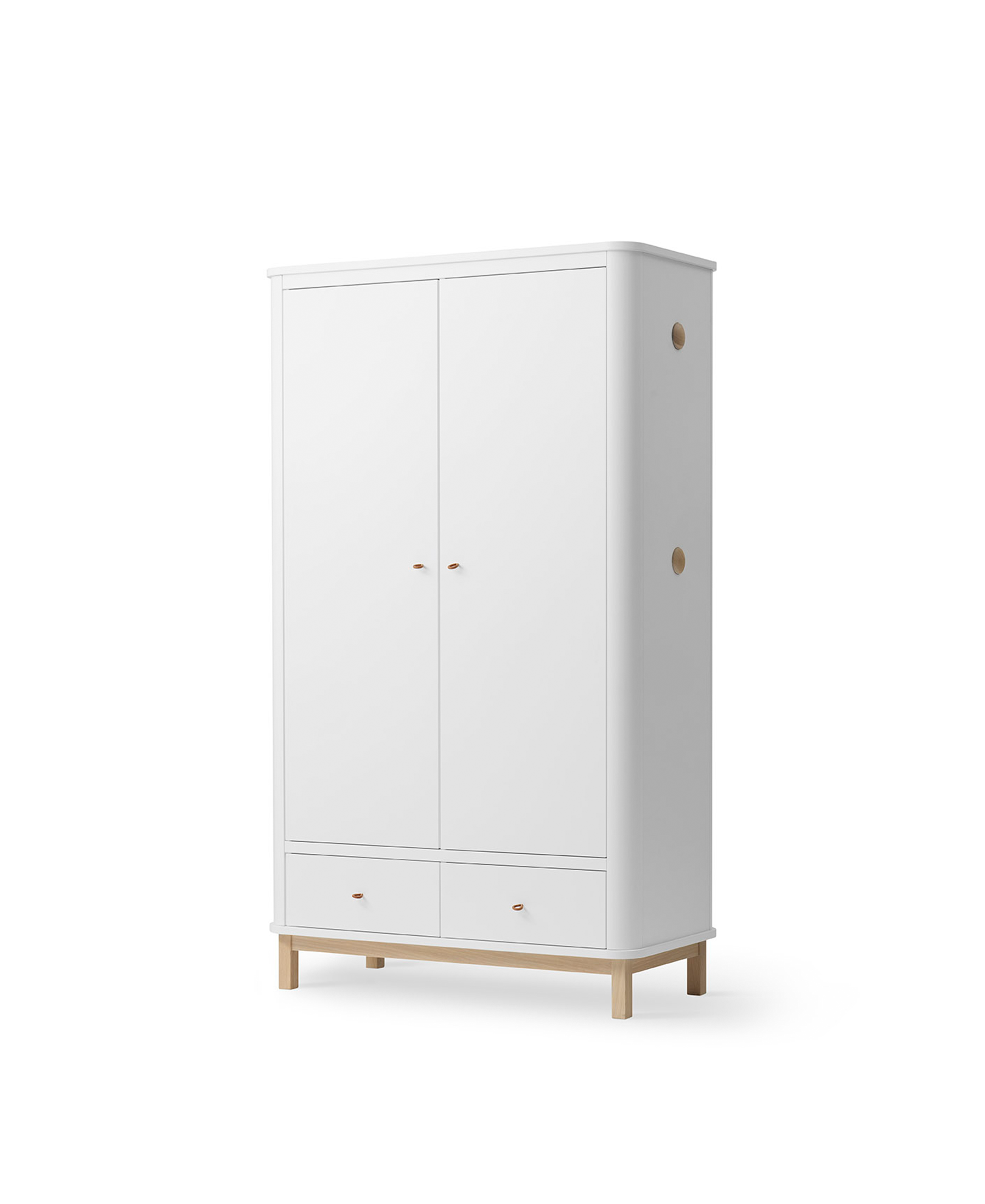 Wood wardrobe 2 doors - white/oak
€1.699,00