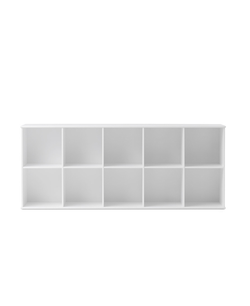 Oliver Furniture
Wood shelving unit 5x2 w. support
Item number: 041323
Dimensions

: w 174 × h 70,5 × d 36 cm
Inside dimensions: w 33 × h 33 × d 33 cm

This shelving unit from the Wood Collection has 10 compartments – 5 horizontal and 2 vertical. The shelving unit is originally designed for children's rooms, but it is suitable for all other rooms too. The box shelf is designed to accommodate custom made storage boxes, that can be purchased as accessories. These have 3 white sides and one oak side. This oak front as well as the white side opposite of it have beautiful leather handles. Both sides can be used as a front. Additional shelf boards can be added to further subdivide the shelf compartments. The Wood shelving unit is spacious, stable and therefore a very practical piece of furniture. 

This shelving can also be ordered as floor shelving with base.
The Wood shelving units are made of MDF, which is engineered wood consisting of 60% birch, 20% pine and 20% aspen wood. MDF is very strong and durable.
The non-visible screws give the shelving units a clean and exclusive design and are a defining trade of Oliver Furniture. The style is contemporary and the functional, flexible concept make the shelving units easy to integrate.
The shelving units are made in Europe and comply with European safety standards and norms. The products are painted with non-toxic, water-based paint.