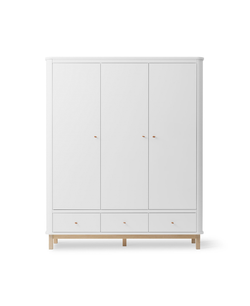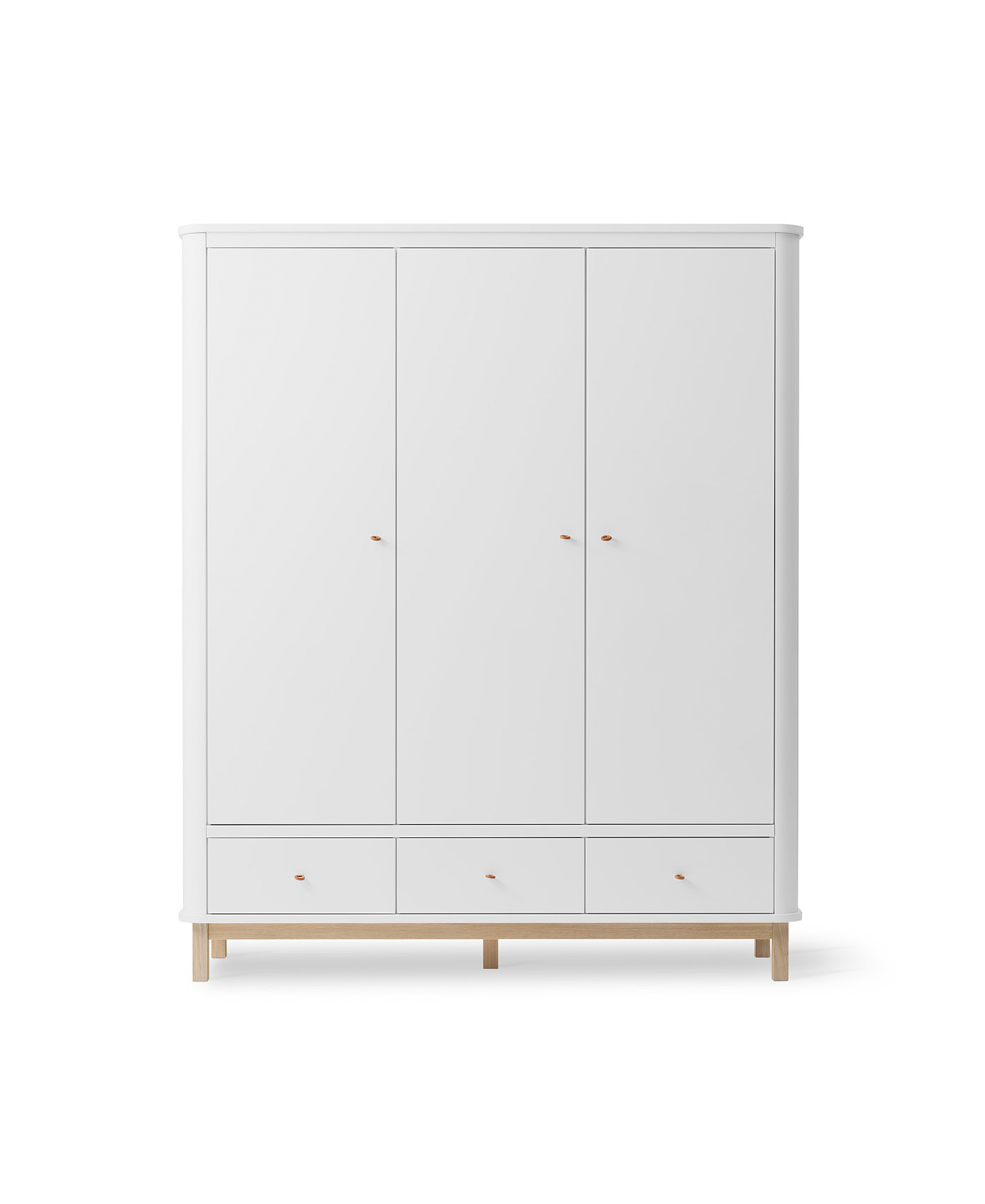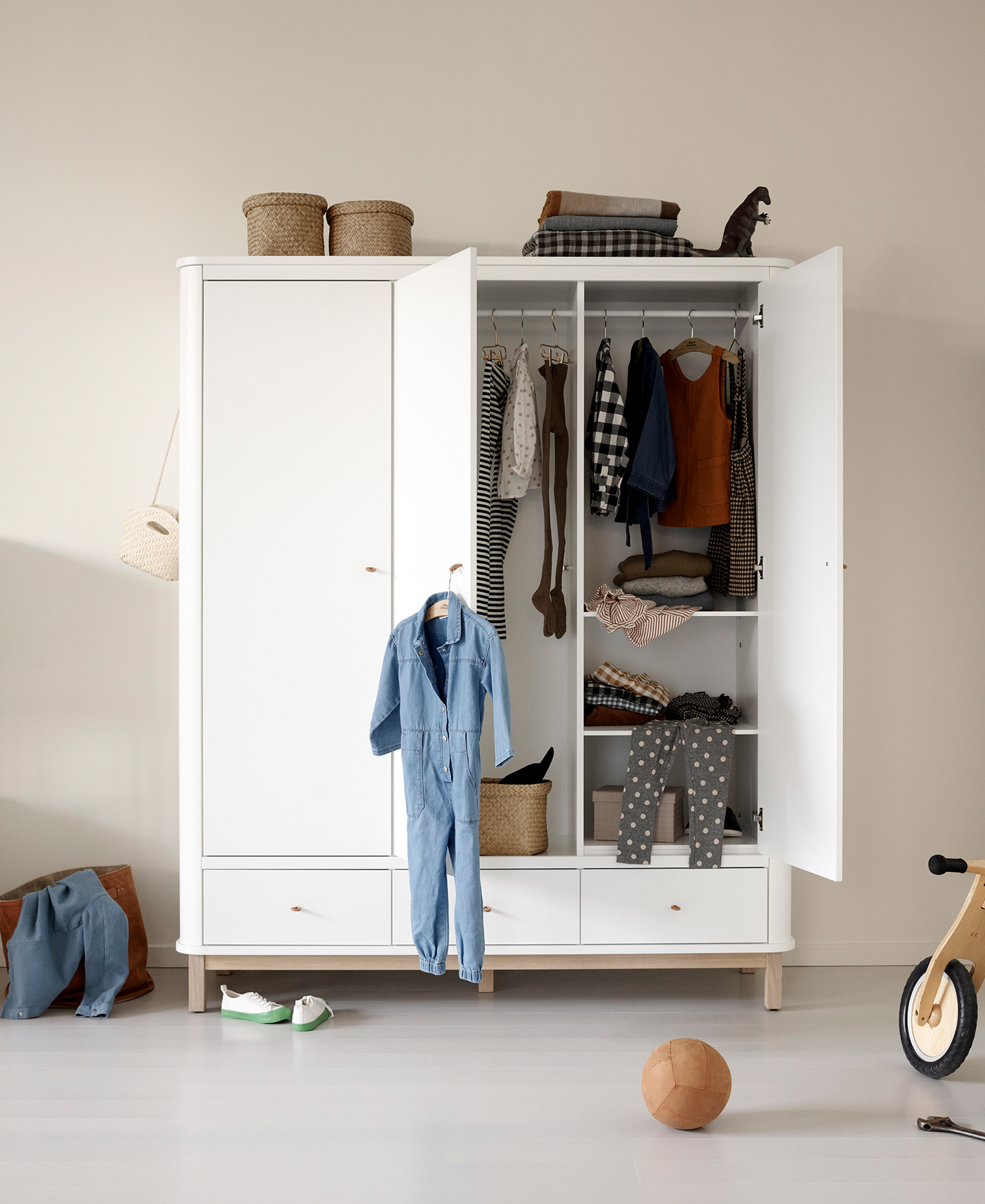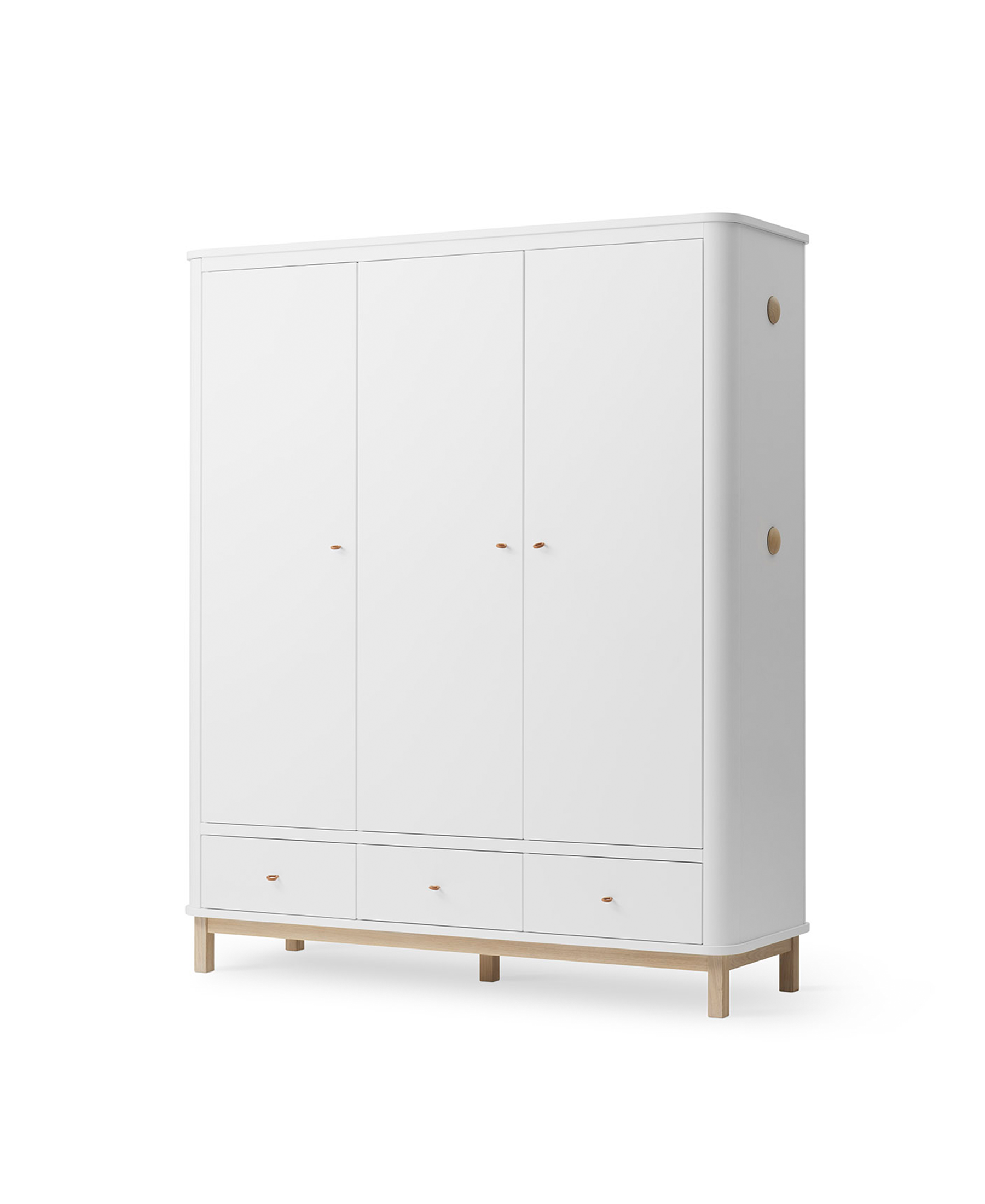 Oliver Furniture
Wood wardrobe 3 doors - white/oak
Item number: 041353
Dimensions: w 168 × h 204 × d 58 cm
Inside dimensions drawers: w 44 × h 17 × d 46 cm

The wardrobes are modelled after the archetypical wardrobe with a Nordic interpretation. The functional, flexible concept combined with the simple, sophisticated expression make the wardrobe easy to integrate: in the children's room or master bedroom, for coats and jackets in the entrée or for towels and linens in the hallway.

The rounded corners give the wardrobe a visual lightness. The rounded edges on the back face visually distinguish it from the wall. The sides of the wardrobe are designed with integrated, rounded hooks for hanging everything from the days' outfit to ballet shoes or bathrobes. With a light push the hooks integrate with the side of the furniture, giving them both a decorative and practical function. 
While the spacious interior of the wardrobe can be configured to fit with flexible shelving, the continuous hanging rod and bottom drawers are fixed elements.
The Wood wardrobes are made of MDF, which is engineered wood consisting of 60% birch, 20% pine and 20% aspen wood. MDF is very strong and durable. The wardrobes are offered in two different models: one with legs and hooks in beautiful white-oiled oak and one in all-white with legs and hooks in birch.

The non-visible screws give the wardrobes a clean and exclusive design and are a defining trade of Oliver Furniture. The style is contemporary with clean lines, rounded shapes and refined details such as pulls made from loops of full grain leather and integrated, rounded hooks. A special soft close-function dampens the closing of doors and drawers, so small fingers won't get pinched.
The wardrobes are made in Europe and comply with European safety standards and norms. The products are painted with non-toxic, water-based paint.
THE WOOD WARDROBE SERIES, EXISTS OF 3 MODELS, WHICH CAN ALL PURCHASED WITH BASE/HANGERS IN WHITE OR OAK.
ROUND - BOTH FRONT AND BACK
The rounded corners facing both outwards and towards the wall, give the wardrobe a visual lightness. Whereas a traditional wardrobe has rounded edges on the piece's outer face, the Wood wardrobe has rounded edges on the back face and visually distinguishes it from the wall.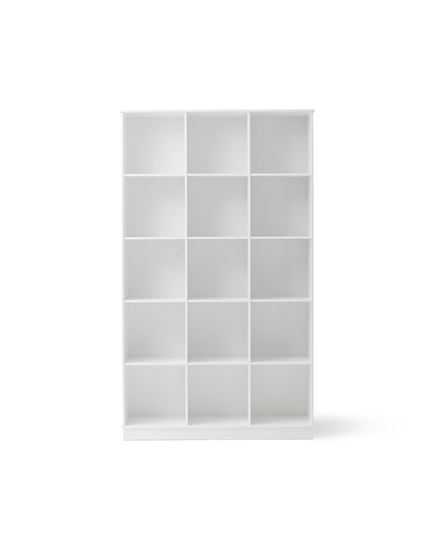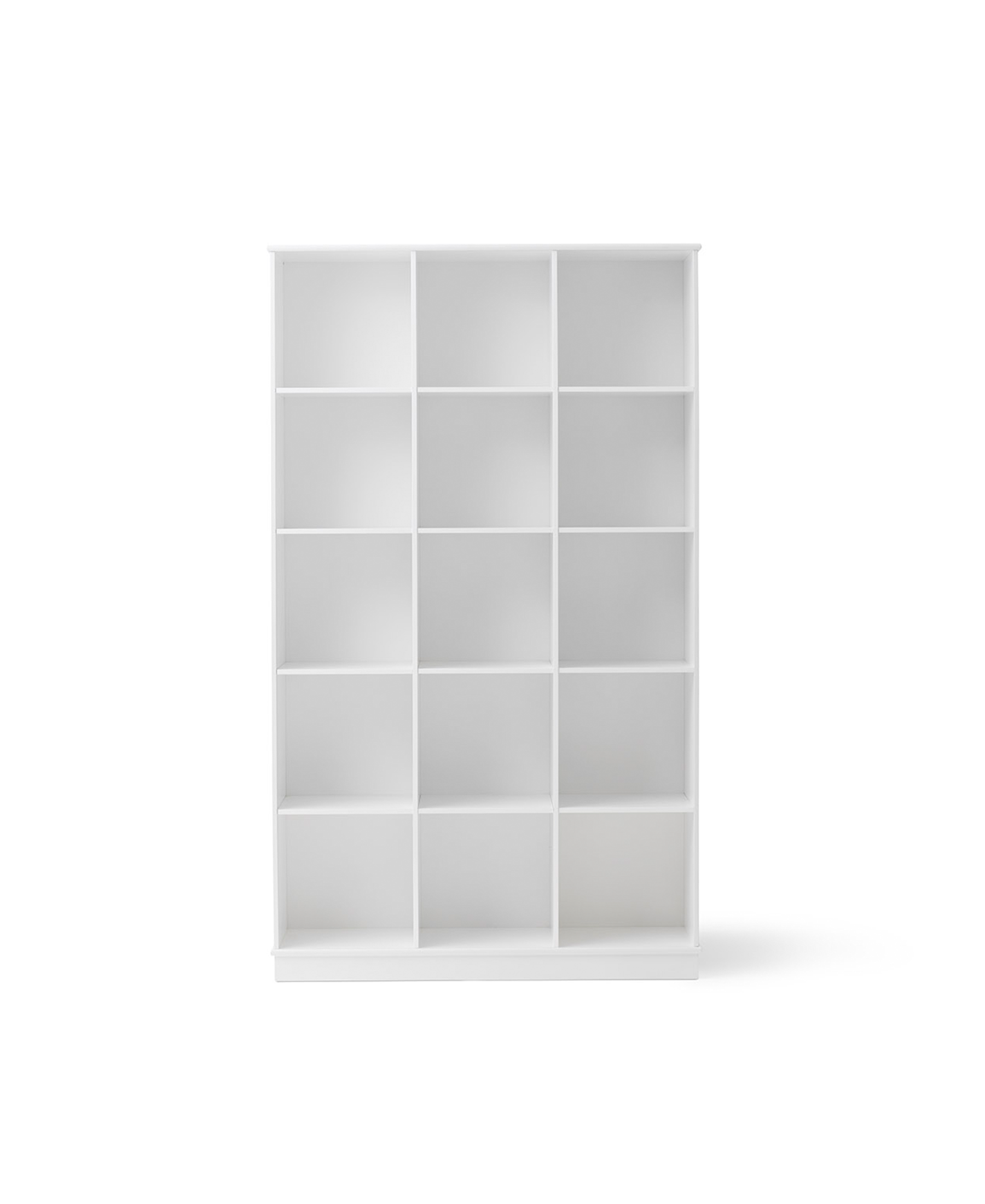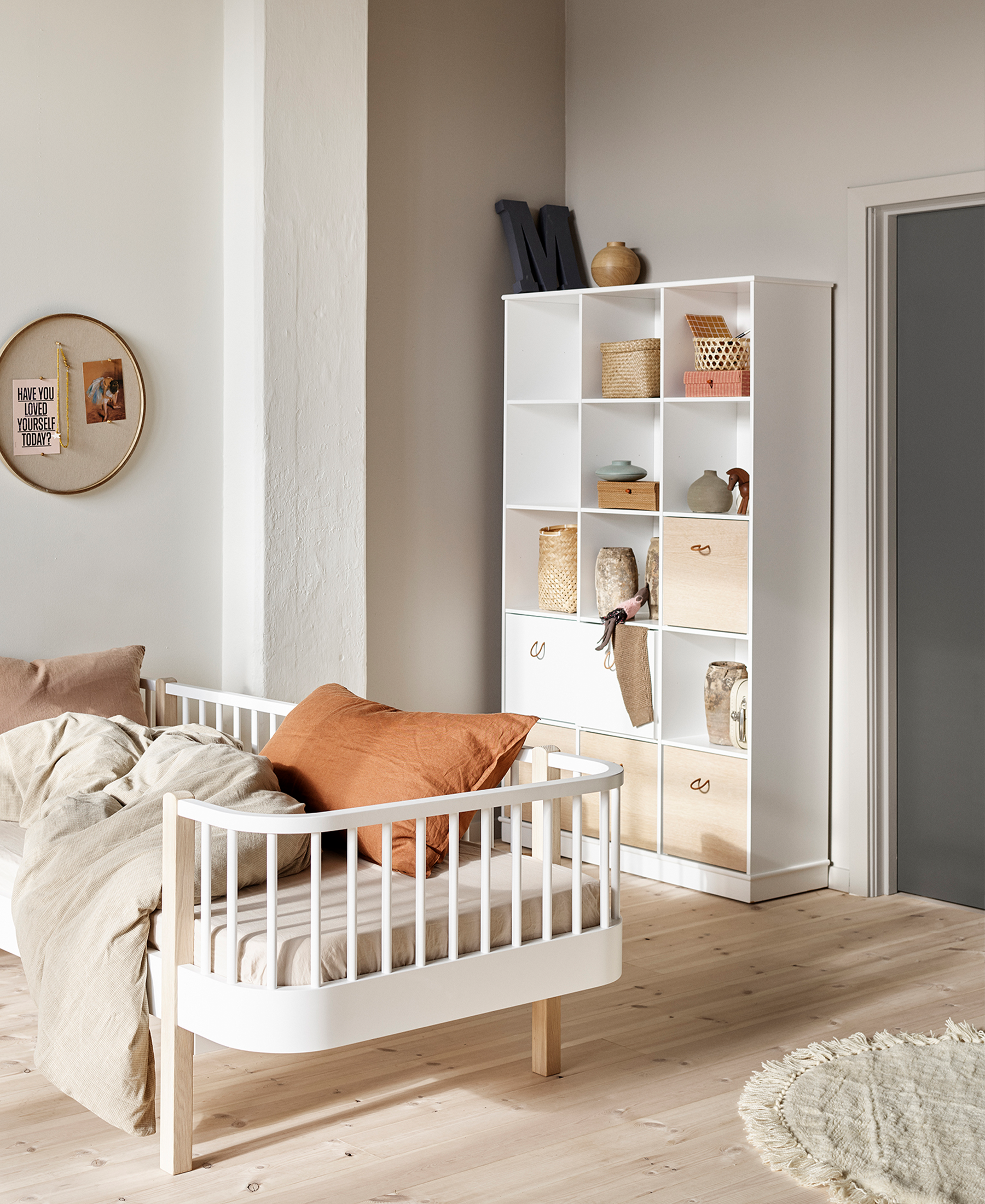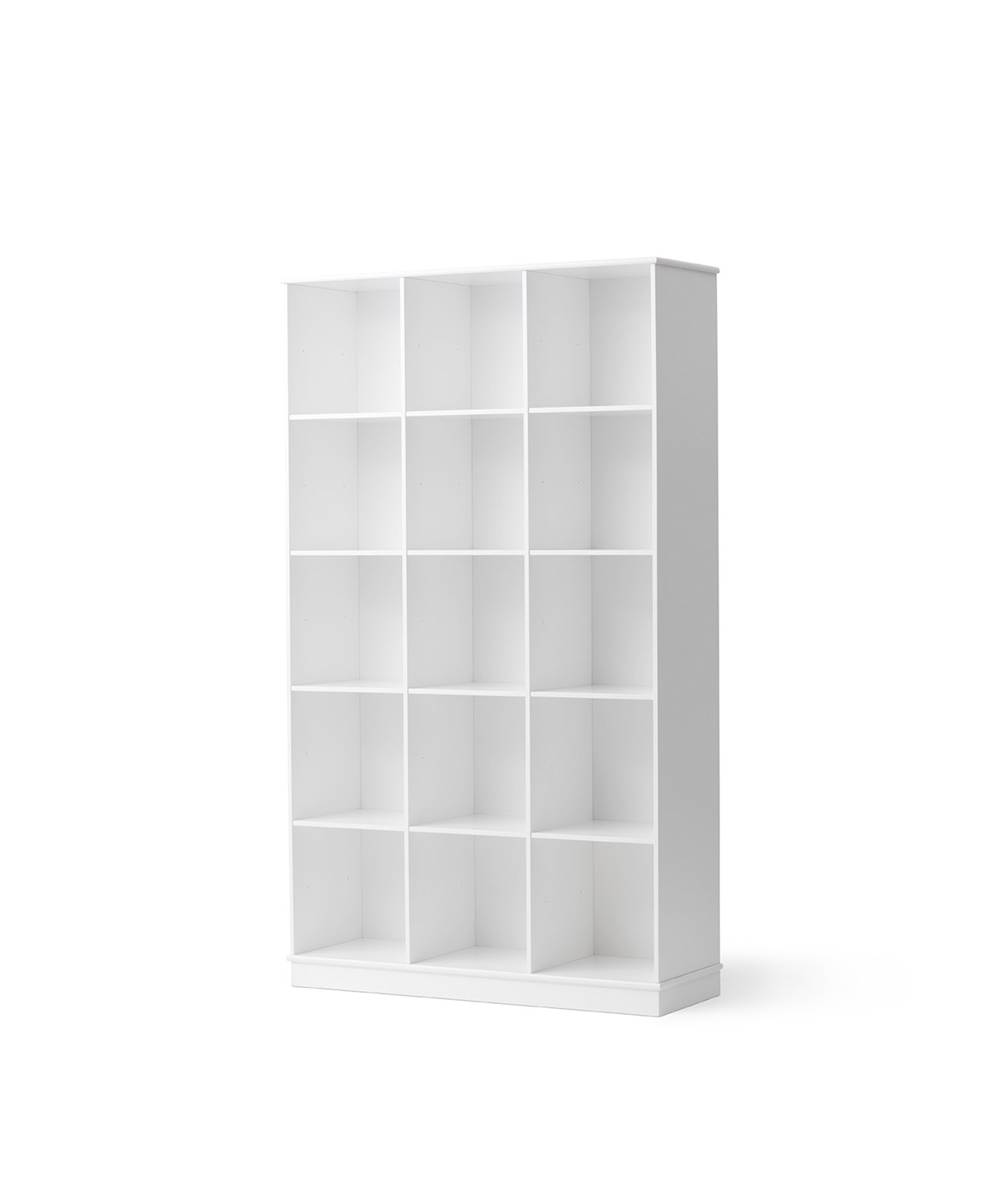 Wood shelving unit 3x5 w. base
€799,00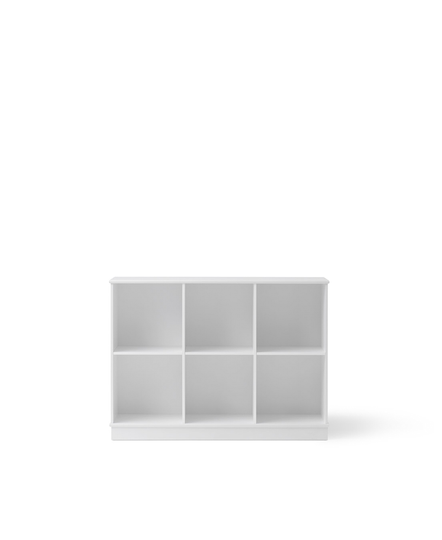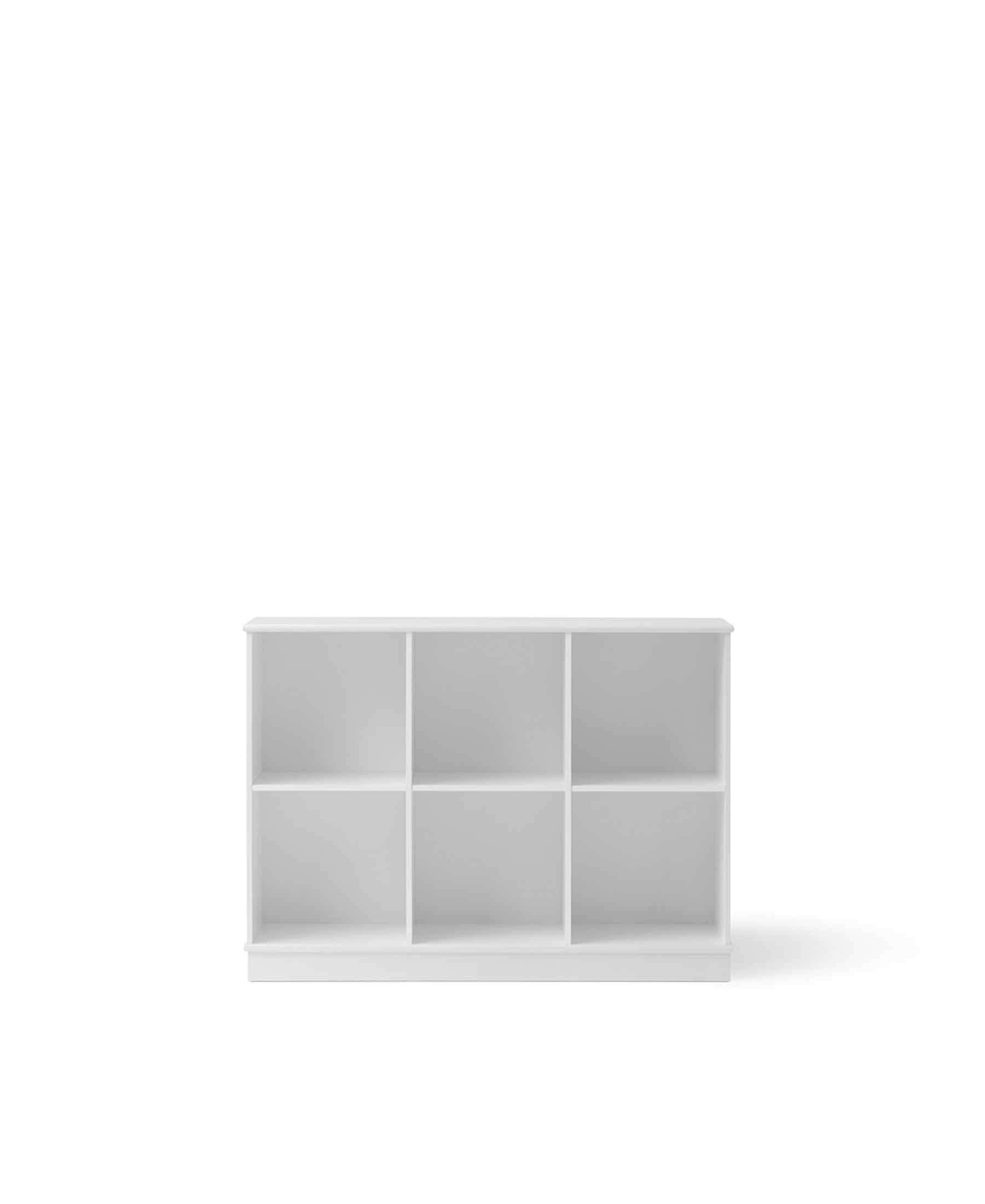 Wood shelving unit 3x2 w. base
€459,00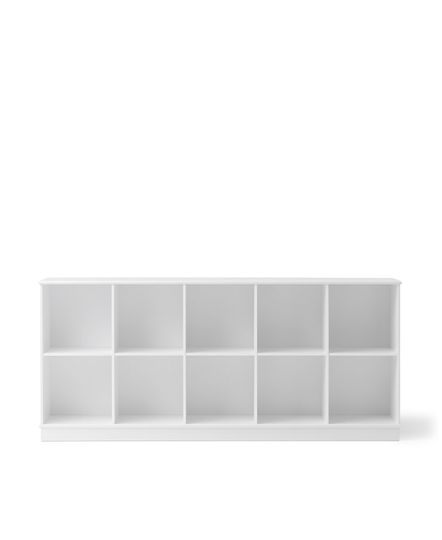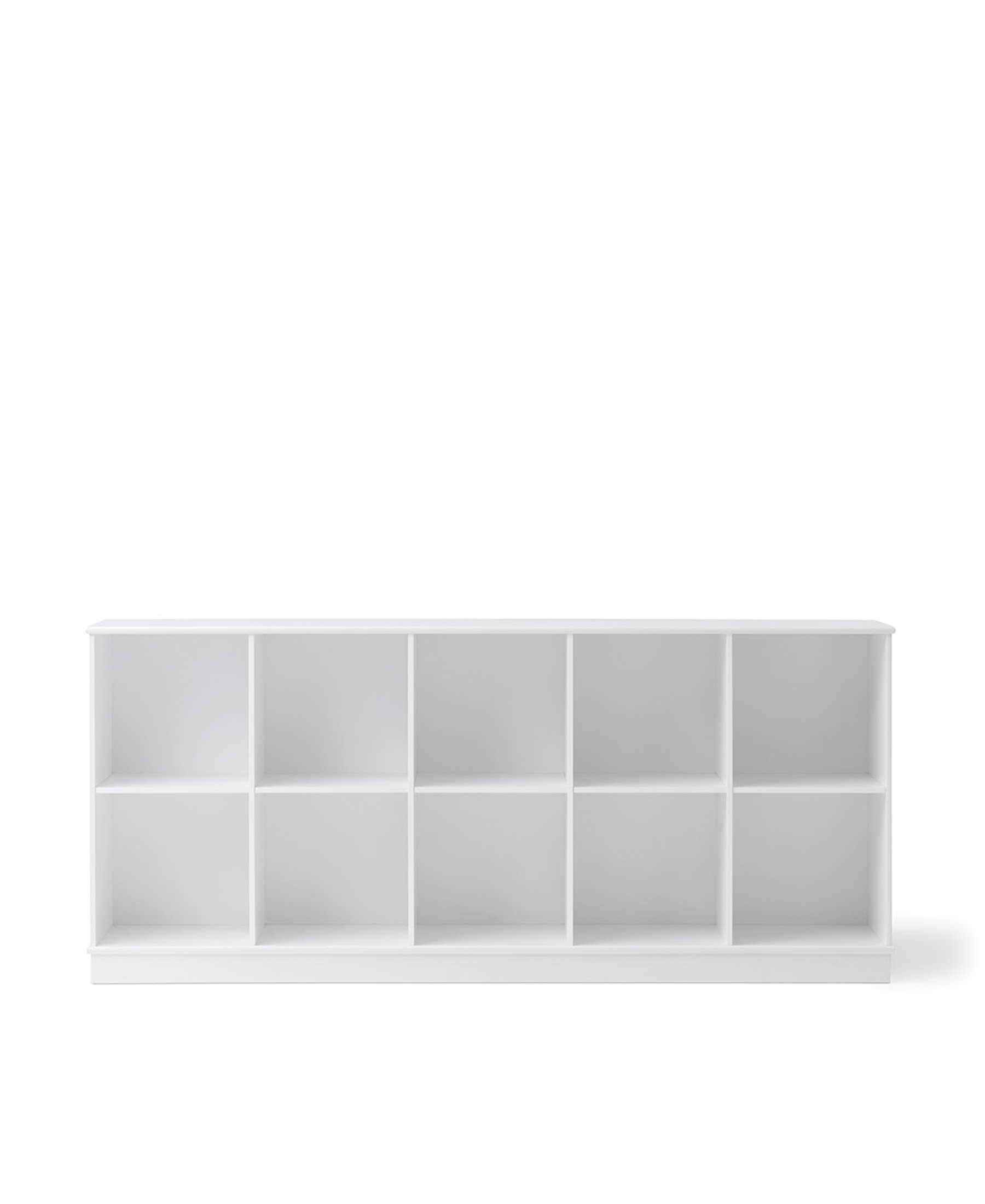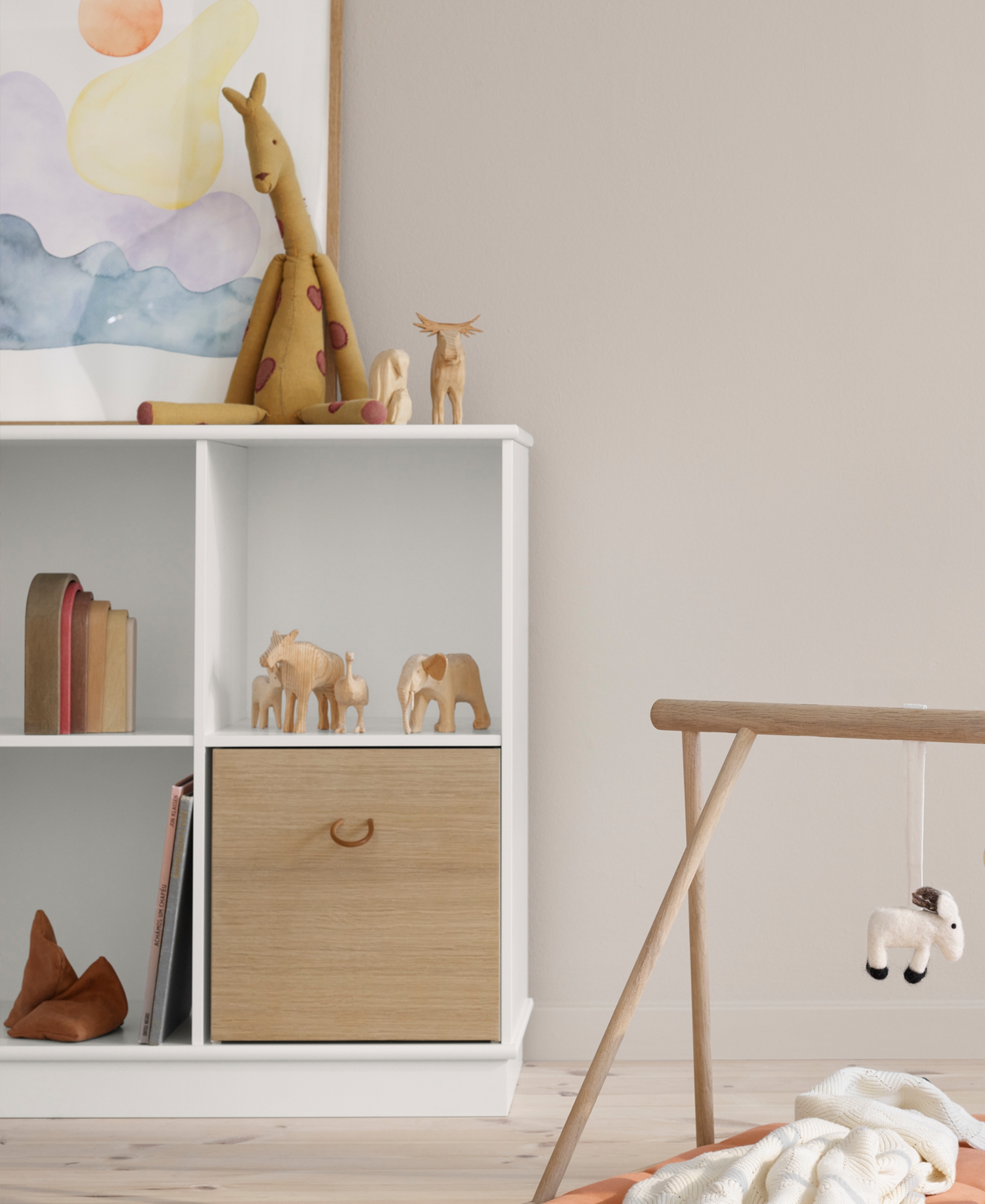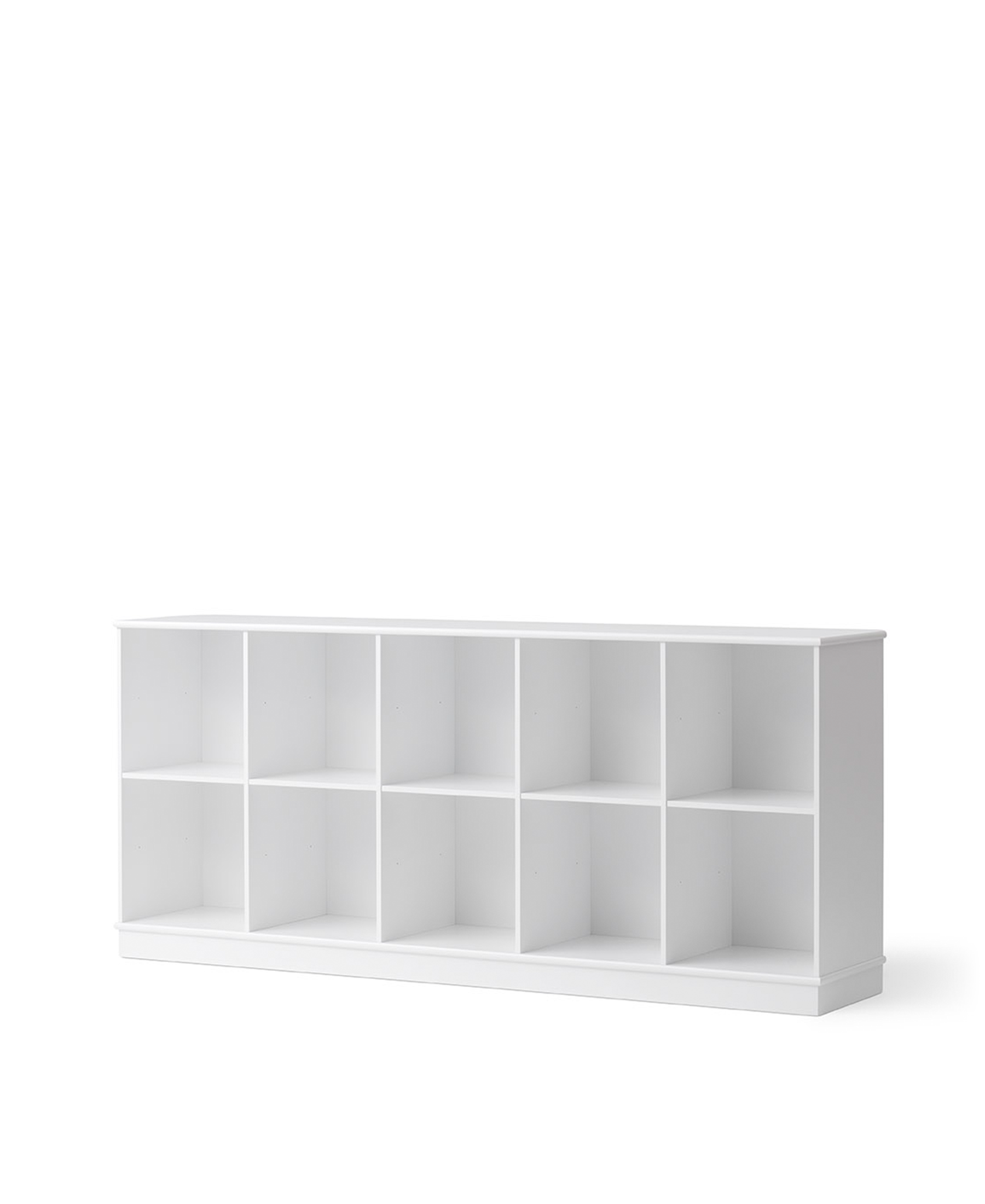 Wood shelving unit 5x2 w. base
€639,00