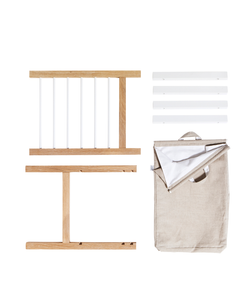 Oliver Furniture
2 pull-outs and laundry bag for seaside dresser & nursery dresser with 6 drawers
Item number: 021330
Dimensions: w (2x) 44 × l 40 × h 2,5 cm
The Seaside dresser and nursery dresser with 6 drawers can be equipped with 2 additional pull-outs, which can be integrated underneath the top plate: One pull-out has small bars for hanging or placing things, while the other is designed as a holder for the included laundry bag.

The functional and well-considered solutions make the dresser a practical changing station, where the focus can be on the child.
The pull-outs are made of solid oak and birch and aluminium.

The laundry bag is made of 100% cotton, Oeko-Tex certified and machine washable.

The pull-outs and laundry bag are made in Europe.