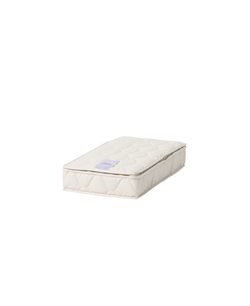 Oliver Furniture
Mattress extension for Seaside Lille+ 68 x 38 cm (from 130 to 168 cm)
Item number: 021862
Dimensions: w 68 × l 38 × h 12 cm
Mattress extension suitable for the Seaside Lille+ basic mattress in the dimensions 68 × 130 cm. With the extension you will end up with a mattress in dimensions 68 × 168 cm that fits all other beds from the Seaside Lille+ series.
Dust and dirt have a tough time settling into the mattress. With an easily washable cover, the mattress has a high level of hygiene and is suitable for allergy sufferers. If the worst comes to the worst, you can even wash the top part of the two-piece cover, as it comes with an attached zip-off zipper that makes it easy to get it off and on.
The mattress core is made of Oeko-Tex certified European HR cold foam, which is very comfortable, breathable, and hypoallergenic, easily recovers its shape after use and has a high carrying capacity. Volume weight 28.5-33 kg/m3.
The cover is made of GOTS-certified organic herringbone cotton, quilted with a layer of Oeko-Tex certified recycled PET fibres.
The removable cover is machine washable (max. 40°).
The mattress is manufactured in Europe and complies with European safety standards and norms. The mattress is tested according to the safety standard EN 16890 and in compliance with the European fire safety standards EN 71-2 and BS 7177.