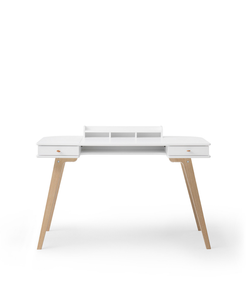 Oliver Furniture
Wood desk 72,6 cm
Item number: 041011
Dimensions

: l 118,5 × w 68,5 × h 

72,6

cm
Wood desk is, with its delicate measurements and numerous functions, an easy choice in the child or teenager's room. It also works well in a corner of the living room or kitchen nook. The table has two heights which are achieved with interchangeable legs. It is equipped with two A4-sized drawers, and a hidden shelf with a permanent spot for laptops, electronics and chargers. The table's built-in drawing surface, which can be tilted up from the table and adjusted like an artist's easel, makes the table suitable for both drawing and reading. The popup stationary box with three rooms and a shelf makes for order and overview. The table's design appeals to small, creative heads who can think out and capture on both paper and screen, their great architectural ideas. Wood armchair fits Wood desk in either height adjustment.
The stable desk is, in its both sharp and mildly nostalgic design, able to gather and expand a world of thoughts, lines, and words.
Wood desk is made of white oiled oak veneer, birch and MDF, which is engineered wood consisting of 60% birch, 20% pine and 20% aspen wood. MDF is very strong and durable.

The style is defined by its thorough design and stands out by its refined detailing like the drawer's leather pulls and the lightly sloping legs. The rounded corners, even on the side facing the wall, and non-visible screws, create a visible lightness and an effortless expression.
The desk is made in Europe and comply with European safety standards and norms. The desk is painted with non-toxic, water-based paint.